Fire Damage Restoration in Northeast Reno, NV
Northeast Reno's hot, dry climate creates the perfect environment for wildfires to spread quickly. Wildfires can begin without notice and usually start by intense heat, high winds, or arson. Fires can also occur inside homes and businesses, generally from electrical problems or negligence. 911 Restoration of Reno understands how to manage all types of fire and smoke damage. Our technicians have decades of experience administering fire damage restoration. We realize that once the fire department finishes their job, it is ours to provide quick fire cleanup in Northeast Reno.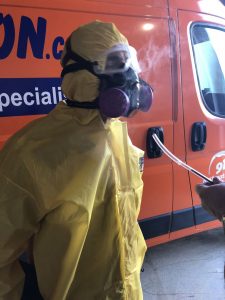 911 Restoration of Reno will start the recovery process by giving the property owners a free fire damage assessment. This inspection will allow us to survey the fire and smoke damage and come up with an estimate.
You can feel safe when our technicians arrive on the scene. 911 Restoration is licensed, bonded, and insured for your protection and employs IICRC-certified professionals who have reached the highest standards in the industry.
We won't waste any time beginning the fire damage restoration. Our repair techs understand that the longer the smoke and ash stagnate, the more damage these substances create. 
Our technicians will provide full-service property restoration and act fast to ensure permanent odor removal. Along with addressing the ash and smoke, we will make any structural repairs and conduct water damage restoration.
The amount of water damage created during the extinguishing process may be shocking. Sometimes the flooding can be worse than the fire damage, making it crucial to hire a restoration company that can handle both issues.
911 Restoration of Reno strives to be your trusted fire information center. When you need professionals to remove fire and smoke damage in Northeast Reno, call the restoration company you can depend on!
Water Damage Repairs are an Essential Part of Fire Damage Restoration
After the fire department puts out the flames, there is usually significant flood damage left on the property. Sometimes the water damage can be more destructive than the fire.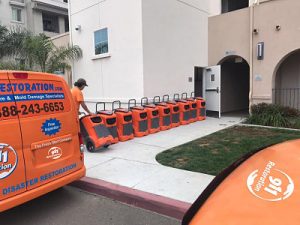 Unfortunately, the only way to smother a property fire is to saturate the entire building with water. By hiring 911 Restoration of Reno, you will receive help from a team that specializes in fire and water restoration. Our technicians have decades of experience conducting thorough water and fire cleanup services. We will immediately extract the floodwater and implement drying techniques that will stop mold growth and limit structural damage.
It is essential to keep your belongings safe while we conduct the restoration work. To do so, our repair techs use gentle cleaning techniques like sodablasting to remove the soot and ash from your possessions.  You can trust us to clean every surface and item inside the structure, from the furniture to the dishes. We meticulously remove ash and soot from all the corners and crevasses of your property.
The lingering ash and smoke damage can cause a foul odor that has the ability to permeate the entire property. Our experts use special cleaning agents to wipe out the stench completely, leaving the space smelling fresh and clean.
Call 911 Restoration of Reno when you need fire cleanup services from a restoration company that pays attention to detail. Our professionals will give you peace of mind by providing you with comprehensive fire damage restoration today!
A Restoration Company That Will Turn Your Fire Disaster into a Fresh Start
Understandably, it can be challenging to deal with the aftermath of a fire. However, 911 Restoration of Reno puts all its effort into making sure you are taken care of every step of the way.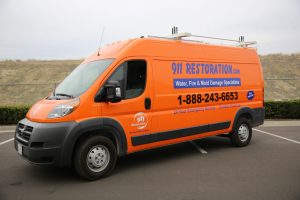 There is no need to experience any more loss than you already have. We will keep your belongings protected during the fire damage restoration by facilitating the pack-out and storage procedures.
Our IICRC-certified technicians will also assist you in taking inventory of the damage to both your property and possessions. By creating an itemization list for your insurance provider, you will maximize the coverage your policy offers.
Insurance is an important aspect of the fire damage restoration process. 911 Restoration of Reno makes this step easy by offering free insurance consultations. One of our professionals will go over your policy to help you understand the coverage you are entitled to receive.
Our staff members will directly bill your insurance provider and submit your claim, so you never have to concern yourself with the financial logistics. We will do whatever it takes to make this whole ordeal go as smoothly as possible.
Call 911 Restoration of Reno to receive help from a team that cares and understands what you need from a fire cleanup company. We will show you that fire damage restoration can be the catalyst to the Fresh Start you deserve.
Servicing the cities of Downtown Reno, Fernley, Midtown Reno, Northeast Reno, Northwest Reno, Reno, Riverwalk District, Sparks, Sun Valley, West Reno, and the surrounding areas.