About 911 Restoration of Reno
Meet the Owner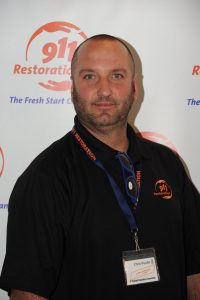 Chris Poulin owns 911 Restoration of Reno and is happy to expand his service repertoire in the biggest small city. He has recruited his sister to help in the endeavor as they take on the communities' biggest property disasters.
Whether your building floods, catches fire, or you suspect a mold infestation, call Chris and Dana 24/7 for emergency service from a knowledgeable duo who always put the customer first. Their goal is to make the customer happy by getting the house back in working order.
With a free visual inspection, 45-minute response time, and a free visual mold inspection for property owners, the water damage Reno company is sure to take care of its customers.
Chris has been serving the city of Reno with window cleaning since he was 18 and Dana has been providing her expertise in bookkeeping. Both of them moving into the disaster restoration industry has everything to do with their love for the biggest little city in the world.
When disaster strikes, you can call Chris and Dana at 911 Restoration of Reno for same-day service water extraction, mold decontamination, and fire damage restoration. Our team will remediate all forms of damage. We believe in giving everyone the Fresh Start they deserve! Call 911 Restoration of Reno today!
Tips for Pipe Burst Prevention

Pipe bursts happen for two main reasons: freezing and over-pressurization. The easiest one to resolve is the pressure in your pipes. Most modern homes and buildings are equipped with a water pressure regulator. Setting your water pressure to less than 80psi or less will help the plumbing last longer. However, many older properties are equipped with obsolete plumes. Some of these plumes are only meant to last for 100 years. If your residential or commercial building is over a century old, it may be time to look into replacing your plumbing system.
The other issue that leads to pipe bursts is that plumbing freezes in the winter if not handled properly.  You can insulate your plumbing and leave cabinetry open that houses pipes to help the heater reach your waterline.  If you are going on vacation, shut off your water at the main line. Otherwise, you may come home to a winter wonderland inside your house.
A Fresh Start in Reno with 911 Restoration and Chris Poulin
Chris has lived in the Lake Tahoe and Reno area his whole life. His fresh start is to start a new business that helps others achieve their own fresh start. 911 Restoration is called the Fresh Start Company because we believe in second chances and that's what we provide your property after fires, floods, or other disasters. Call us today for a free visual inspection.