Advanced Restoration Equipment
With rapid changes in advanced restoration equipment and techniques, we prioritize investing in the industry's best equipment. This enables our 911 Restoration experts in Reno to swiftly and effectively restore properties to their pre-loss condition, all at a more affordable price compared to our competitors.
The restoration and cleaning industry heavily relies on the standards set by the IICRC. An excellent illustration of these standards is the IICRC S500 Water Damage Guide, which offers detailed instructions on efficiently drying a property using temperature and relative humidity control.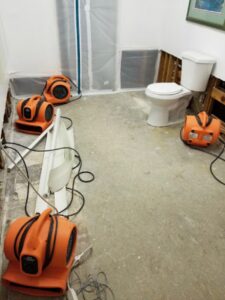 Moisture Detection and Measurement Tools
When it comes to moisture detection and measurement, the market offers a wide range of equipment types. It is crucial to select the most suitable equipment based on your specific requirements. Common options include hygrometers, moisture meters, infrared cameras, and thermometers.
Hygrometers Detect Water Vapor
A hygrometer is a useful instrument for measuring the amount of water vapor in the air. It finds application in monitoring the humidity of a room or area, and it is frequently employed in weather stations. Hygrometers typically operate by measuring the dew point, which indicates the temperature at which water vapor condenses into liquid. While there are various types of hygrometers, they all serve the same fundamental purpose of humidity measurement.
As the most fundamental type of moisture detection equipment, hygrometers are designed to measure the presence of water vapor in the air. They serve as reliable tools for monitoring the humidity levels in homes or offices.
Moisture Meters Detect Moisture of Hard Surfaces
Moisture meters offer a diverse range of options, such as pin-type and non-invasive variants. Unlike pin-type meters, non-invasive meters do not require the use of pins. Instead, they utilize sensors to detect moisture content in the material being tested. These advanced meters excel in measuring moisture levels in materials like wood or concrete.
Infrared Cameras Detect Water Damage
Water damage stands as a leading cause of home insurance claims, and its destructive potential should not be underestimated. Swift action is essential to minimize the damage and avert future complications when your home or business is affected by water damage.
Water damage can result in various problems such as mold growth, rot, and structural damage. If left unaddressed, it can lead to significant expenses and headaches. However, you can mitigate the damage and restore your home or business by acting swiftly and collaborating with a professional. An invaluable tool for detecting water damage is an infrared camera, capable of identifying moisture even in concealed or hard-to-reach spaces.
If you have concerns about water damage, it's crucial to contact a professional for an inspection. During the assessment, make sure to inquire about their use of an infrared camera. These cameras are capable of detecting moisture in concealed spaces such as walls, cabinets, and floors.
Water Extraction and Mitigation Equipment
When it comes to water extraction, selecting the appropriate equipment is paramount for ensuring the safety of your home and loved ones. In this section, we will explore several popular types of water extraction equipment currently available on the market:
1. Pumps: Pumps are the most common type of water extraction equipment. They remove water from flooded areas.
2. Vacuums: Water extraction equipment comes in many forms, with vacuums being one of the most commonly used. They are often used to remove water from carpets or upholstery.
3. Dehumidifiers: Dehumidifiers are used to remove moisture from the air, and can be particularly helpful in homes with poor ventilation. By reducing the amount of moisture in the air, dehumidifiers can help to prevent the growth of mold and mildew.
Drying Equipment For Your Needs
In the water damage restoration process, drying equipment plays a crucial role. Without it, damp areas would retain moisture, creating an environment for mold and mildew to thrive. At our company, we prioritize thorough moisture and humidity removal from the affected area. Our advanced equipment enables us to achieve this efficiently, delivering guaranteed results.
When it comes to drying equipment, numerous options are available, each with its own set of advantages and disadvantages. The choice of equipment will ultimately depend on the specific requirements of your water damage restoration and mold removal project.
Our highly trained IICRC water damage experts in Reno are available 24/7, 365 days per year.