Mold Removal in Reno, NV
Did you spot some dark discoloration on the wall or floor of your property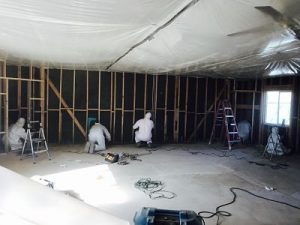 in Reno? This discoloration could indicate a mold infestation, especially if you also smell a foul odor. Mold can spread quickly once it gains a foothold in your home or business. Make sure you stop this fungus in its tracks by contacting the mold removal experts at 911 Restoration of Reno. You can call us at 775-419-0116 and we will answer your phone call no matter the time of day.

Mold remediation techs can reach properties in Reno, Sun Valley, and Sparks within 45 minutes of an emergency call. The mold remediation experts at 911 Restoration of Reno are on call 24/7/365, so you can get immediate help, no matter what time day or night.
Once mold remediation crews reach your property, they can take charge of the situation. You can rely on mold removal in Reno to involve:
A Free Visual Mold Inspection for Property Owners Only

Working with a 3

rd

Party Laboratory for Mold Testing

Blocking Mold from Spreading Further

Handling Mold Removal in Reno with Professional Equipment
Total mold removal in Reno can return your property to better-than-new condition. From the time 911 Restoration of Reno arrives to perform your mold inspection until the time the mold cleanup process is completed, you will have our dedicated support in all aspects of the restoration process.
Full-Service Restoration Company in Reno, NV
At 911 Restoration of Reno, we offer a Fresh Start with our comprehensive selection of property damage restoration services, including but not limited to:
Whether you're a Nevada homeowner or business owner, 911 Restoration is your Fresh Start! We'll communicate with you throughout the entire process, help answer questions related to insurance, and restore your property to its pre-damaged condition. One of our IICRC-certified teams is dispatched within 45 minutes of your call! Contact us today, and one of our friendly representatives will assist you in finding the nearest location.
You deserve a Fresh Start if you are dealing with mold damage in Reno, Sun Valley, Carson City, or Sparks. Find out more about your options for total mold remediation by contacting the professionals at 911 Restoration of Reno today at 775-419-0116.
What Causes Mold Growth?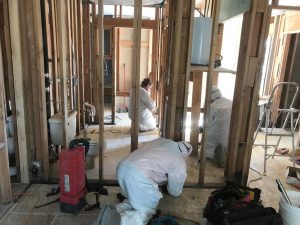 Many property owners in Reno are unsure how they even developed a mold infestation. After all, our area doesn't get a lot of rainfall and moisture. However, even small storms or leaking pipes can give mold a foothold in your home or business.
Fortunately, you can get same-day services handling mold removal in Reno. The crews at 911 Restoration of Reno are all licensed, bonded, and insured to handle all aspects of mold remediation. Want to know more about our credentials, please call us at 775-419-0116. You can also rely on us to handle any water damage that is responsible for your mold infestation.
911 Restoration of Reno has the experience, equipment, and training to handle water damage restoration. We can:
Repair Damaged Pipes

Handle Ceiling Leaks and Leaking Pipes Behind Walls

Help You Recover from Basement Flooding
Handling the underlying cause of the mold infestation can make mold cleanup in Reno more effective. Some property owners do not even realize they have a mold issue until techs perform a mold inspection in Reno while repairing water damage after a flood, pipe burst, or sewage backup.
Fortunately, 911 Restoration of Reno can repair damage caused by water and mold, give us a call at 775-419-0116 and see how we can help you. Techs can complete mold decontamination in Reno to eliminate mold odors and to ensure that any dangerous spores are removed from your property.
You should be aware that some forms of mold are toxic. Allowing them to remain on your property can endanger your health. Get professional help completely cleaning and disinfecting your home or business after you spot mold by calling 911 Restoration of Reno today at 775-419-0116.

Can You Get Same-Day Mold Remediation in Reno?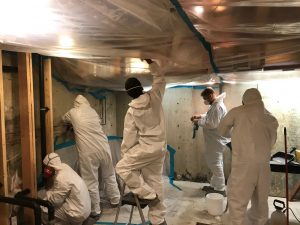 It's important that property owners in Reno move quickly to address mold infestations. Mold grows quickly once if finds a way into your home or business. Mold can also lead to health issues, including dangerous respiratory conditions.
You can protect your property and your health by reaching out to a professional mold removal company. Mold remediation in Reno involves:
Assessing the Situation with a Mold Inspection

Setting Up a Mold Removal Plan

Focusing on Mold Cleanup and Disinfection

Removing Items Infested with Mold

Setting Up Barriers to Stop Mold from Spreading

Removing Mold Spores with Air Filters
Mold decontamination ensures that all signs of mold infestation in your property are wiped away. You should not even be able to tell that a mold infestation ever occurred by the time the property restoration crews are finished.


IICRC-Certified Professional Services in Reno
Getting help from mold experts can ensure that your mold issue is handled properly the first time. 911 Restoration of Reno can reach properties in Reno, Sun Valley, Carson City, Sparks, and any surrounding cities within an hour to offer same-day mold abatement services. All techs are IICRC-certified to handle mold cleanup. We have years of experience successfully taking care of residential and commercial mold infestations.
You can get a Fresh Start after you experience a mold infestation in Sun Valley, Sparks, or Reno. Let the pros at 911 Restoration of Reno return your property to better-than-new condition, starting right now. Call us at 775-419-0116 and allow us to give you a free visual inspection.
911 Restoration is located at 4583 Longley Lane #4 Reno, NV 89502. Give us a call 24 hours a day at (775) 419-0116.
Servicing the cities of Downtown Reno, Fernley, Midtown Reno, Northeast Reno, Northwest Reno, Reno, Riverwalk District, Sparks, Sun Valley, West Reno, Fallon, Cold Springs, and the surrounding areas.