Mold Removal in Reno, NV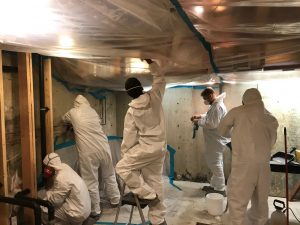 When dealing with the challenge of mold removal in Reno, NV, it is essential to turn to trusted experts like 911 Restoration of Reno. This vibrant city, framed by the Sierra Nevada mountains, is no stranger to the mold issues that can arise from sudden weather changes and water damage. 911 Restoration of Reno understands the local climate and its impacts on residential and commercial properties.
The team's comprehensive approach not only eradicates mold but also addresses the underlying causes, such as moisture intrusion or improper ventilation, ensuring a long-term solution for your property.
The professionals at 911 Restoration of Reno are equipped with state-of-the-art technology to efficiently identify and remove all types of mold, including the pervasive black mold that poses significant health risks. They provide thorough inspections, which are crucial for mapping out the mold presence and crafting a targeted remediation plan. 
Understanding Mold in Reno, NV
In the city of Reno, NV, nestled at the base of the Sierra Nevada, the understanding of mold growth and its implications is paramount for maintaining healthy indoor environments. The team at 911 Restoration of Reno possesses a wealth of knowledge regarding mold's nature, the conducive conditions for its proliferation, such as Reno's fluctuating climate, and the best practices for mold remediation. Mold thrives in moist areas and can occur in homes following water damage from leaks, floods, or even snowmelt penetrating the structure. 
Types of Mold Common in Reno
The desert climate of Reno, with its hot summers and cold winters, can create the perfect storm for various types of mold to take hold in local homes and businesses. The experts at 911 Restoration of Reno often encounter several mold species, including Cladosporium, Penicillium, and the notorious Stachybotrys chartarum, commonly known as black mold. Each type of mold has its characteristics and preferred environments, but all share the need for moisture to grow. 
What Are the Health Risks of Mold Exposure?
The health risks associated with mold exposure can range from mild to severe, particularly in the diverse population of Reno, NV. The experienced team at 911 Restoration of Reno is acutely aware that mold can cause various health issues, from allergic reactions like sneezing and skin irritation to more serious respiratory conditions. 
This is particularly concerning for individuals with pre-existing health conditions such as asthma or immunocompromised systems. The presence of mold, especially long-term exposure, can exacerbate these conditions, underlining the urgency of addressing mold infestations promptly.
Mold Remediation Process
911 Restoration of Reno follows a meticulous mold remediation process designed to tackle mold at its source and prevent its return. The process commences with a thorough inspection, utilizing advanced detection tools to uncover all mold-affected areas. 
Using IICRC-certified techniques, the team then proceeds with the removal of mold-infested materials, employing HEPA-filtered vacuums and antimicrobial treatments to eradicate spores from the environment. Air filtration and dehumidification strategies are applied to address airborne spores and excess moisture. 
Homeowners in Reno can count on 911 Restoration for a comprehensive mold remediation service that prioritizes structural integrity, indoor air quality, and their overall well-being.
Same-Day Mold Remediation in Reno
For immediate relief from mold woes, 911 Restoration of Reno pledges same-day mold remediation services to swiftly restore your home to a safe and healthy state. As an IICRC-certified company, they adhere to the highest standards in the restoration industry, ensuring every job is performed with unmatched professionalism and attention to detail. If you suspect mold in your home, don't hesitate; take action today for a mold-free tomorrow by calling (775) 419-0116 and ensuring your sanctuary is in the hands of trusted professionals.
911 Restoration of Reno is located at 14830 Kivett Lane, Reno, Nv 89521. Give us a call 24 hours a day at (775) 419-0116.
Servicing the cities of Downtown Reno, Fernley, Midtown Reno, Northeast Reno, Northwest Reno, Reno, Riverwalk District, Sparks, Sun Valley, West Reno, Fallon, Cold Springs, and the surrounding areas.