Mold Removal in Northwest Reno, NV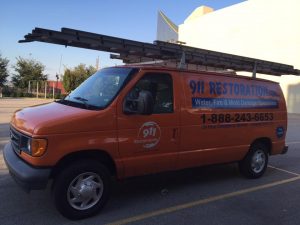 If you need mold remediation in Northwest Reno or the surrounding area, you're in good hands. 911 Restoration of Reno has been helping local homes and businesses recover from mold contamination for a while, and our expert mold decontamination technicians do what it takes to make your property feel new again. They're skilled in everything from mold inspection to mold removal to structural and surface repairs. The company is licensed, insured, and bonded, and every member of the mold remediation staff is IICRC certified. Call on them, and you can enjoy peace of mind knowing your mold problem is about to be gone for good.
Mold is a tricky organism. It thrives in your property following any form of water damage, whether it's a sewage backup, pipe burst, or flooding during Reno's wet season. Once mold is settled in your home or business, it can spread quickly throughout. Every mold colony releases spores into the air that can travel to dark, unseen corners and establish new growth.
We Assess The Entire Area For Signs Of Mold
The mold decontamination experts at 911 Restoration fully understand the habits of mold and the tell-tale signs of a hidden infestation. They conduct a thorough mold inspection to make sure every inch of growth is uncovered and eliminated, so you can rest easy in a home or business that is truly mold-free.
Your caring mold removal crew understands how stressful an infestation can be. Mold eats away at your property and presents a threat to your health. But you can count on these compassionate professionals to remove the threat completely at an affordable cost. 
If you need mold removal in Northwest Reno, choose the company that puts you first. Choose 911 Restoration of Reno.
Commercial And Residential Mold Decontamination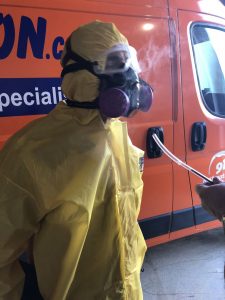 Mold grows anywhere. That's why our mold remediation crew works anywhere. Whether your infested property is a private home or a massive workspace, you can call on 911 Restoration of Reno to restore your property to better-than-new condition.
The mold remediation process begins with a thorough mold inspection. This is necessary even if you can see the growth yourself because an infestation can spread to other areas of your home or business. Plus, mold grows most efficiently in dark, damp places. You could have hazardous mold in your walls or down your pipes without ever realizing it. 
Any growth discovered during a mold inspection is sampled and brought to a third-party laboratory for testing. Once identified, your mold removal crew will discuss the decontamination plan with you. Different varieties of mold come with different risks, and your dedicated mold remediation experts know how to get rid of any type of mold in a manner that is safe for you, your family, or your employees.
It is also possible that you and your mold cleanup crew discover permanent damage left by your infestation. Mold literally eats away at the surfaces and structure of your home or business. There can sometimes be damaged even after prompt mold removal. If this is the case for you, rest assured the professionals can repair any destruction left by the infestation.
At 911 Restoration of Reno, our primary goal is to restore your property to better-than-new condition. For a Fresh Start, contact our mold remediation specialists today.
Black Mold Cleanup In Northwest Reno
You've probably heard horror stories about black mold. There is a lot of talk about how this type of mold can cause myriad health conditions, including headaches, respiratory issues, and heart problems. It's all true, but black mold isn't the only culprit. Even white mold and other varieties that seem less threatening can cause damage to your health. Allergenic and pathogenic molds have been responsible for an increase in allergies, the development of asthma, and even more serious diseases. 
No matter what type of infestation you have, the mold cleanup crew at 911 Restoration does everything they can to protect your health and your property. They have the tools and knowledge to get rid of toxigenic mold entirely. They're careful to limit the release of spores and mycotoxins during the mold decontamination process. And they complete mold remediation with structural drying to prevent a repeat infestation.
Your well-being is our top priority, which is why you can always expect the most compassionate and complete mold cleanup service from our technicians. Whether it's black mold or white mold, a shop or a house, an in-your-face infestation, or a musty smell coming from behind the wall, 911 Restoration of Reno has you covered. All you have to do is call.
911 Restoration is located at 4583 Longley Lane #4 Reno, NV 89502. Give us a call 24 hours a day at (775) 419-0116.
Servicing the cities of Downtown Reno, Fernley, Midtown Reno, Northeast Reno, Northwest Reno, Reno, Riverwalk District, Sparks, Sun Valley, West Reno, and the surrounding areas.