Mold Removal in Fernley, NV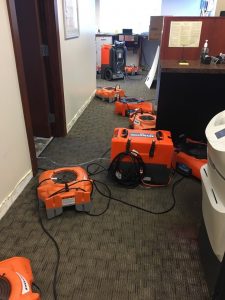 Maybe you've been experiencing unexplained headaches or waking up dizzy. Or perhaps there's mold on your walls, right there in plain sight. Whether you're certain you have an infestation or you merely suspect it, you need a professional mold inspection right away. The longer mold is allowed to thrive on your property, the worse the damage will be to both your structure and your own health. Fortunately, the IICRC certified mold remediation specialists at 911 Restoration of Reno are always available to provide the relief of full-service mold decontamination, from the initial mold inspection to final damage repairs.
Our caring mold remediation crew are all IICRC certified and highly trained to manage allergenic, pathogenic, and toxigenic mold removal with the utmost care. They've been managing mold remediation in Fernley for a long time, and they know how local property owners struggle to fully recover from flood-related damage when their water incident leads to a mold infestation. You can trust that the team at 911 Restoration recognizes how a mold infestation can interrupt your life and your work, and they work diligently to conduct mold cleanup quickly and completely. They even repair compromised materials, whether that means fixing a permanently damaged ceiling or removing contaminated carpet. Most importantly, they take extra steps to guard your property against a repeat infestation.
The ultimate goal of your mold removal crew is to give you a Fresh Start. That means eliminating mold, restoring your surfaces and structure, and taking preventative measures so you don't have to call us again for mold remediation anytime soon.
Get the new beginning you deserve. Call 911 Restoration of Reno today.
Trustworthy Inspection From Certified Mold Specialists
A certified mold inspection is an essential first step to effective mold remediation. Even if you can see a mold colony in your home or business, spores travel easily throughout your property, meaning you could have a second, third, or fourth infestation hidden in your walls or down pipes.
The mold cleanup staff at 911 Restoration provides a thorough mold inspection, taking care to look in the hidden-away areas where mold tends to thrive. If they find any additional growth, they sample it and take it to a third-party laboratory for mold testing. This step accomplishes two important things. First, it gives you an unbiased, scientific evaluation of your infestation for your peace of mind. Second, it provides your mold decontamination specialists with the information they need to approach mold removal in the safest and most effective way possible. With more than 100,000 species of mold out there, accurate identification of your infestation is key to comprehensive mold remediation.
Once the mold cleanup crew understands the exact species they're working with, they communicate with you about what steps need to be taken for mold removal and why. From the initial mold inspection to final structural dehumidifying, you'll never be in the dark about the service your experts provide. 
At 911 Restoration of Reno, we know customer service is about more than just a job well done. It's about putting your mind at ease. For mold decontamination service you can trust, call us today.
Black Mold Cleanup In Fernley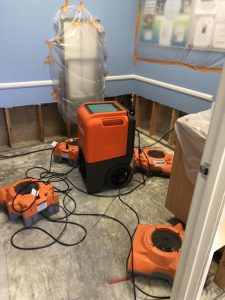 If you have a mold infestation in your home or business—or even if you only think you have a mold infestation—you need to seek out mold inspection and mold remediation as soon as possible. 
Not only does mold eat away at your wall, ceiling, flooring, and carpet, but it can also pose a threat to your health. Most molds fall under one of three categories. Allergenic molds can cause allergies and asthma if they're allowed to spread without quick mold cleanup. Pathogenic molds may cause more serious diseases, especially for individuals with compromised immune systems. And perhaps the best known dangerous mold, toxigenic mold, can lead to a wide range of health issues from respiratory problems to heart conditions.
Do Not Handle The Mold Yourself – Call Us Instead
One of the best known toxigenic molds is black mold, and if you think you have such an infestation on your property, you should waste no time in contacting a certified mold remediation specialist. Do not attempt mold cleanup yourself. Household products cannot remove black mold completely, and without professional tools to dehumidify the structure, you're likely to see a return of this toxigenic species. Plus, when you disrupt a colony by attempting mold removal, you put yourself in direct contact with dangerous mycotoxins that create toxicity in your body when inhaled.
The mold decontamination experts at 911 Restoration are certified to remove black mold and other dangerous species from your home or business completely. They make your well-being their first priority as they approach mold removal with the greatest caution. You can also count on your dedicated mold cleanup crew to take every step to make sure your infestation is truly gone, from removing compromised materials to conducting structural drying.
If you need mold removal in Fernley or the surrounding area, choose the mold decontamination company that always puts you first. Contact 911 Restoration of Reno today.
911 Restoration is located at 4583 Longley Lane #4 Reno, NV 89502. Give us a call 24 hours a day at (775) 419-0116.
Servicing the cities of Downtown Reno, Fernley, Midtown Reno, Northeast Reno, Northwest Reno, Reno, Riverwalk District, Sparks, Sun Valley, West Reno, and the surrounding areas.