Mold Removal in Sparks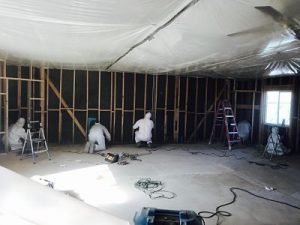 If you require mold removal in Sparks, you're definitely not alone. The IICRC certified mold remediation technicians at 911 Restoration of Reno have helped countless local property owners overcome mold infestations. Between run-of-the-mill property incidents like washer machine overflows and water damage from winter storms and spring floods, this mold cleanup crew is constantly in action. Fortunately for you, the demand for mold decontamination motivates these professionals to stay on top of the highest standards in mold restoration so they can offer neighbors like you the service they deserve.
Every one of our mold remediation experts has undergone rigorous training and achieved IICRC certification in mold restoration. They know how to safely handle allergenic, pathogenic, and toxigenic mold removal. They're well-versed in the latest mold decontamination methods, and they even possess the professional skills necessary to repair any material damaged by mold, from drywall to flooring. 
Just as important, these mold removal specialists care about you. They value you as a neighbor and work diligently to restore your property to its former glory. Because of their vast experience, they know how even the smallest mold infestation can change the way you experience your home or business. Their greatest goal is to make your property as clean and strong as it was the day you first moved in. 
When you choose to work with 911 Restoration of Reno, you're choosing more than a mold removal service. You're choosing a Fresh Start.
Call 911 Restoration of Reno to breathe easy again.
Certified Mold Remediation In Sparks
Be careful not to mistake a mold infestation for another easily-solved blemish on the surfaces of your home or business. Mold is more relentless than mildew, and unlike a stain, it's a living organism that grows, spreads, and literally eats away at the materials inside your property.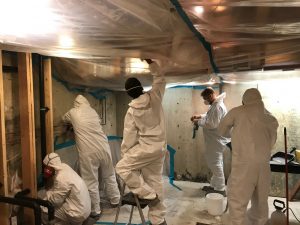 Effective mold removal requires the attention of a certified mold remediation specialist. The IICRC certified mold cleanup crew at 911 Restoration is staffed by professionals who have been trained to discover hidden mold with a thorough mold inspection. They have learned how to recognize various varieties and how to conduct mold removal in a way that ensures your safety and the health of your property. They have the professional tools and knowledge to manage any necessary repairs following mold cleanup, and they can dehumidify the structure to prevent the mold from returning.
If you attempt to handle mold removal yourself, you miss out on the essential steps only a certified mold cleanup specialist can provide, including a comprehensive mold inspection. Why is a certified mold inspection so important? 
A mold colony reproduces by releasing mold spores into the air. Those spores move throughout your property, and if they find another damp, dark space, they land and create a new colony. The mold decontamination experts at 911 Restoration understand the behavior of mold and can identify where spores are likeliest to find a new home. If you have one infestation in plain sight, these experts know how to conduct a mold inspection that will uncover any additional growth hidden within walls or floorboards.
If you don't discover all infestations with the help of a mold inspection, then cleaning visible mold won't do much to truly fix your mold problem. Effective mold decontamination requires mold removal for all colonies on your property, otherwise the cycle of mold development will continue.
The mold remediation experts at 911 Restoration of Reno are determined to stop the cycle once and for all. Call on them and count on mold decontamination that lasts.
Is Black Mold Dangerous?
Another great reason to call an IICRC certified mold removal company like 911 Restoration? The dangers of toxigenic mold.
In truth, just about all varieties of mold present some health risks if they're allowed to linger on your property without effective mold cleanup services. But it's true that toxigenic molds such as black mold pose the greatest risks to your health.
If you have a black mold infestation and you don't get prompt mold removal, the toxigenic mold colony is left to release mycotoxins into the air. You can then breathe in these mycotoxins, which collect in your system to create a state of toxicity. The results of toxicity vary, but they can include anything from heightened allergies to respiratory and heart problems.
Because there are such great health risks involved with black mold and other harmful varieties, it's in your best interest to keep your distance from a toxigenic infestation. This means leaving mold removal to certified professionals who can tackle mold cleanup safely, without spreading an excess of mycotoxins.
No matter what type of mold you have, where it's hiding, or how it got there, there's only one place to call for compassionate, expert mold removal and mold inspection in Sparks. Call 911 Restoration of Reno, and let our mold remediation geniuses put this infestation firmly in the past.
Servicing the cities of Downtown Reno, Fernley, Midtown Reno, Northeast Reno, Northwest Reno, Reno, Riverwalk District, Sparks, Sun Valley, Washoe County, West Reno, and surrounding areas.