Commercial Water Damage Restoration in Reno, NV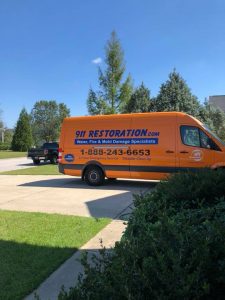 In the heart of Reno, NV, commercial properties stand as testaments to business resilience, yet they are not impervious to unforeseen calamities such as water, fire, or mold damage. Recognizing this, 911 Restoration of Reno positions itself as the beacon of recovery for commercial entities besieged by such tribulations. 
From retail spaces to office buildings, their restoration specialists wield state-of-the-art equipment and industry-leading techniques to ensure a swift return to normalcy, minimizing downtime and protecting the economic vitality of the local community.
Commercial Restoration Services
Understanding the intricacies of commercial restoration, 911 Restoration of Reno offers a spectrum of services designed to tackle every level of distress. The prowess of their skilled technicians shines through as they meticulously work to reverse the effects of water, fire, or mold, safeguarding the structural integrity and aesthetic value of commercial properties.
With a profound emphasis on expediency and effectiveness, these services are not merely about refurbishment but restoring the peace of mind of Reno's business owners and their clientele.
Who to Call When in Need of an Emergency Response?
In times of crisis, rapid response is crucial, and 911 Restoration of Reno stands as the beacon of relief for emergency restoration services. This dedicated team is just a call away, ready to provide immediate assistance with a 24/7 availability that ensures no call for help goes unanswered. Their prompt action, combined with their IICRC-certified expertise, makes them the first responders for any property owner facing urgent restoration needs. 
24/7 Emergency Water Extraction Services in Reno
For immediate water-related emergencies, 911 Restoration of Reno's 24/7 emergency water extraction services are unparalleled. Floods don't adhere to a 9-to-5 schedule, and neither does this team, offering round-the-clock solutions to mitigate damage from water intrusions. Their quick dispatch and efficient water removal tactics minimize the long-term impact on your property, showcasing their dedication to restoring safety and normalcy to your environment, irrespective of the hour.
Mitigation and Immediate Actions
Their team is on standby, ready to leap into action with the tools and knowledge necessary to tackle emergencies head-on. The focus is on rapid, decisive measures that curtail the extent of damage, embodying a proactive approach to disaster management. 
Restoring Your Property Back to Normal 
When disaster strikes, returning your property to its pre-damage state is the top priority, and 911 Restoration of Reno excels in this transformation. Their expert team, armed with IICRC certification, ensures that every aspect of your property's restoration is managed with precision and adherence to the highest industry standards. 
They employ the latest techniques and equipment to address water, fire, mold, or any other damage, ensuring a swift and thorough return to normalcy. The promise of a "Fresh Start" is at the core of 911 Restoration of Reno's ethos, offering not just repair, but a complete rejuvenation of your space, bolstered by their unwavering commitment to bringing your property back to its original glory or even better.
How Do You Navigate Insurance Claims?
Navigating insurance claims after a property disaster can often be as stressful as the event itself, but with 911 Restoration of Reno, this process is significantly streamlined. The company prides itself on being IICRC-certified, which not only assures homeowners and business operators of the highest restoration standards but also facilitates smoother communication with insurance companies. 
Moreover, 911 Restoration of Reno's commitment to quality communication plays a pivotal role in managing insurance claims. Clear and consistent dialogue between the restoration team, the client, and the insurance company minimizes misunderstandings and accelerates the claims process. 
This emphasis on communication ensures that all parties are on the same page, which contributes to a more favorable and expeditious claims resolution. Call us for more details at (775) 419-0116!
911 Restoration of Reno is located at 14830 Kivett Lane, Reno, NV 89521. Give us a call 24 hours a day at (775) 419-0116.