Mold Removal in Midtown Reno, NV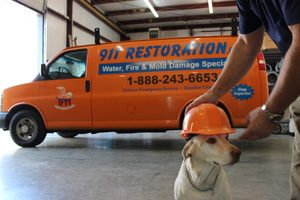 The function of mold in nature is to decompose organic material, and when it lives inside your home or business, that instinct doesn't go away. The longer you wait on mold removal, the worse your damages will be.. Mold also thrives in the darkest corners of your property, including behind walls and within pipes. If you've been waking up dizzy, experiencing unexplained headaches, or have noticed an increase in your allergy symptoms, you might be living with a mold infestation. To guard both your property and your health against injury, call for a professional mold inspection today.
The mold remediation specialists at 911 Restoration are trained to do whatever it takes to fully restore your home or business. Not only do they handle mold inspection and mold removal, but they also dehumidify the structure to prevent future growth and they can repair any material that has been damaged by mold. 
As the number one experts for mold remediation in Midtown Reno, these mold cleanup professionals know how to make your home or office the refuge it once was. For the relief of a Fresh Start, call 911 Restoration of Reno today.
Expert Mold Decontamination In Midtown Reno
If you've already tried using cleaning products to remove mold, you've likely learned the difficult truth:
Mold isn't really going anywhere without professional intervention.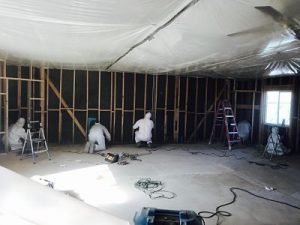 Whether you have a commercial or residential property, you need the help of a certified mold cleanup crew to get rid of the infestation, fix whatever caused it, and repair whatever damage mold left behind. Just as important, you should always have a mold inspection done by true experts. Mold reproduces by releasing spores into the air. These spores travel through your property on clothing, pets, and through air ducts. 
Certified Mold Restoration With A Fresh Start
The mold inspection experts a 911 Restoration of Reno know where to look for mold and can recognize all the signs of a hidden infestation. If their mold inspection leads them to a colony, they sample it for third-party testing. Once it has been identified, we'll create a plan for mold removal that is appropriate for that specific species.
After mold removal, they use professional tools to dehumidify the structure. This ensures that any released spores will not be able to land and start new growth. And if you waited too long on mold decontamination and now have a compromised carpet, crumbling ceiling, or weak drywall? No problem at all. Your mold remediation experts can repair anything.
If you need a certified mold remediation contractor, look no further than 911 Restoration of Reno. From providing a trustworthy mold inspection to keeping the cost of mold removal low, you can count on us to give your contaminated living or work space a Fresh Start. Every member of the mold cleanup crew is IICRC certified and trained in every aspect of the mold remediation process. 911 Restoration is licensed, insured, bonded, and backed by the high-tech resources of a nationwide company.
For comprehensive mold inspection and mold removal in Midtown Reno, call 911 Restoration today.
The Dangers Of Living In A Mold Infested Space
If you feel like living around mold is taking a toll on your health, it's not all in your head. Mold can compromise your wellness if it's left to thrive without prompt mold decontamination.
There are three main types of mold. Allergenic mold can cause allergies and asthma. Pathogenic mold can be even more dangerous without mold removal, causing some serious diseases. This is especially true if you have a compromised immune system. And toxigenic mold such as black mold releases mycotoxins into the air which then create a state of toxicity in your body.
Always seek out a mold inspection and mold decontamination from a certified specialist. If you attempt mold cleanup yourself, you only put yourself at a greater risk. Instead, reach out to 911 Restoration of Reno. Our compassionate mold decontamination experts approach your infestation with the utmost caution and care. They hold themselves to the highest standards in mold removal safety.
A mold infestation can be a great source of stress, but with the right mold remediation contractor, you can get rid of that stress for good. For ultimate peace of mind, call 911 Restoration of Reno.
911 Restoration of Reno is located at 14830 Kivett Lane, Reno, NV 89521. Give us a call 24 hours a day at (775) 419-0116.
Servicing the cities of Downtown Reno, Fernley, Midtown Reno, Northeast Reno, Northwest Reno, Reno, Riverwalk District, Sparks, Sun Valley, West Reno, and the surrounding areas.