Mold Remediation in Fallon, NV
Many property owners know the stomach-dropping feeling that comes when they discover a patch of mold growth in their Fallon, NV home or business. Not only does mold mar the appearance of an otherwise pristine space, but it also presents potential damage to your structure and risks to your health. The good news is if you need mold remediation in Fallon, NV, comprehensive service is only one call away. The compassionate mold removal technicians at 911 Restoration of Reno are all extensively trained in mold inspection, mold cleanup, and even structural repairs. They are prepared to do whatever it takes to restore your property to its former glory.
Full-Service Mold Remediation in Fallon, NV
At 911 Restoration of Reno, we offer a Fresh Start with our comprehensive selection of property damage restoration services, including but not limited to:
Whether you're a Fallon, NV homeowner or business owner, 911 Restoration is your Fresh Start! We'll communicate with you throughout the entire process, and help answer questions related to 
Every one of our mold decontamination professionals has undergone extensive training to earn IICRC certification so they can give customers the best service possible. 911 Restoration is licensed, insured, and bonded. Everything this company does, they do with your best interests in mind. From mold inspection to tearing out your contaminated carpet, your dedicated mold remediation crew holds themselves to the highest standards of property restoration.
Just as important, you can't count on these mold cleanup professionals to approach your job with empathy and compassion. No thanks to local floods, snow, and property water disasters, our technicians have a lot of experience with mold remediation in Fallon, NV. They know what you're going through. They know what it takes to get you past this stressful time. And they're eager to help you move on quickly and completely.
While your home or business may currently feel dark and contaminated, these technicians see an opportunity for a Fresh Start. For quality, inexpensive mold remediation in Fallon, NV or the surrounding area, call 911 Restoration of Reno today.
Full-Service Mold Inspection And Decontamination in Fallon, NV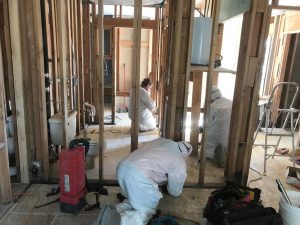 One common question among property owners is: "Can I use cleaning products to remove mold?"
In short: no. Or at least, not the way mold needs to be removed in order to make your property new again. Mold removal is about much more than getting rid of the blotchy patch on your wall. In order to eliminate mold completely, you need comprehensive mold remediation from an IICRC-certified professional like 911 Restoration of Reno. 
The process should always begin with an expert mold inspection to make sure every area of growth in your property has been discovered. Once every colony has been discovered and identified, your mold cleanup crew conducts mold decontamination using a process that is safe and appropriate for the specific species infesting your home or business. 
This system of mold removal is bound to be more effective than anything you can do with household cleaners. More importantly, it has a better shot at being complete, because the workers follow mold decontamination with structural dehumidifying. This step completely dries out the area where mold grew, making it unlikely that spores from the eliminated colony will land on the same surface and start new growth. DIY mold removal methods don't include structural drying, which is why your own efforts at mold cleanup are unlikely to achieve total success.
Finally, the mold remediation workers test the structure for damage. If they discover that any material has been compromised by mold damage, they repair it. It doesn't matter if the damage happened to your ceiling, wall, or floor, this crew knows how to fix it.
Mold damage can be extensive and complicated. But with a certified mold specialist, you can put mold contamination firmly in the past. Don't waste time and money on ineffective methods. Call 911 Restoration of Reno for the comprehensive service you deserve.
Certified Mold Specialists In Fallon, NV
Did you know there are more than 100,000 species of mold?
This is another reason why it's important to work with a certified mold remediation contractor. There are so many different varieties of mold, and each comes with its own set of dangers. Allergenic molds can cause respiratory difficulties such as allergies and asthma. Pathogenic mold is especially dangerous to individuals with compromised immune systems. Toxigenic mold releases mycotoxins, which you can inhale into your system, causing a wide range of problems from headaches to heart conditions.
Our IICRC-certified professionals at 911 Restoration understand the important differences between different species of mold. When they discover an infestation during mold inspection, they sample it and deliver the sample to a third-party laboratory for testing. This ensures both you and your mold inspection specialist understand exactly what type of infestation you have. The mold removal crew then uses this information to create a decontamination strategy based on that specific species.
Lasting mold removal depends on several different factors and requires a full understanding of mold behavior. That's why it's absolutely essential to contact an IICRC-certified professional when you need mold remediation in Fallon, NV.
911 Restoration of Reno is located at 14830 Kivett Lane, Reno, NV 89521. Give us a call 24 hours a day at (775) 419-0116.
Servicing the cities of Downtown Reno, Fernley, Midtown Reno, Northeast Reno, Northwest Reno, Reno, Riverwalk District, Sparks, Sun Valley, West Reno, Fallon, Cold Springs, and the surrounding areas.