Fire Damage Restoration in Reno
It is amazing how quickly a fire can rip through a property. Within five minutes an entire structure can become engulfed in flames, creating a devastating path of fire and smoke damage.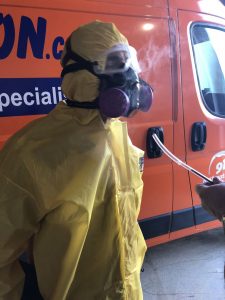 If your home or business becomes overwhelmed by flames, you can trust that the technicians at 911 Restoration of Reno will provide the reconstruction and renovation services required to get your property looking better than new.
We understand that fire disasters can occur any time, with incidents seemingly happening at the most inopportune moments, which is why our staff is available 24/7/365 to schedule an appointment for a free fire damage assessment. Please call us at 775-419-0116, we are available at all hours of the day

Along with fire cleanup services, technicians are trained to provide customers with a complete property restoration, including water damage repair for the flooding caused by the fire hoses.
911 Restoration of Reno is considered a fire information center and their staff has the knowledge to answer any questions you may have regarding smoke damage, odor removal, and all other fire cleanup services.
If you live in Reno, Sparks, or Sun Valley, call the fire specialists as soon as the flames have been extinguished in your residential or commercial property. Before you know it, you will be working with a team that cares and understands your needs.
Advanced Smoke And Odor Removal Services
With all of our experience mitigating fire and smoke damage from different property types, 911 Restoration of Reno understands how to implement fire cleanup services that will thoroughly remove soot, odor, water, and smoke damage.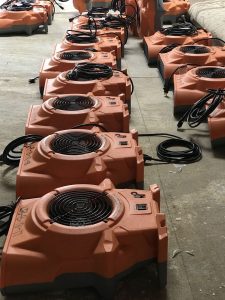 We always begin the process with a complete inspection of the household, taking extraordinary measures to make sure that the structure is safe for you and your family to re-enter.
Smoke and ash can permeate even the most obscure corners of the property, making professional smoke and soot cleanup services crucial to successfully removing the odor from the premises.
You can even count on us to remove furniture and rugs that were burnt by the fire, allowing us to clean the area and dispose of any unsalvageable items thoroughly. You can also rest assured that our staff will always use safe, cleaning agents when disinfecting your property.
The professionals understand how important it is to immediately begin efforts to remove the strong smoke odor, which is why we want you to call 911 Restoration of Reno immediately after a fire has taken place in your property. You can contact us 775-419-0116 and we will answer your phone call no matter the time of day.

Water And Fire Damage Restoration
The amount of water damage in Reno created by the fire department can be an unexpected byproduct of fire. Sometimes the flooding caused by the fire hoses is more significant than the fire itself.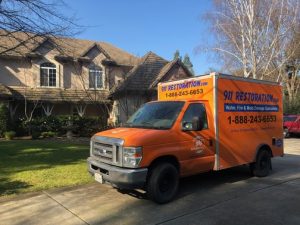 911 Restoration of Reno can provide both the fire cleanup and water damage restoration services needed to repair your property after a fire completely.
Once the flooding is sufficiently contained, workers can begin taking steps to repair the damage caused by the increased moisture. By initiating powerful water extractions, drying, and dehumidifying procedures, repair techs can mitigate the water damage.
If it is necessary to pack-out your property to better remediate the water damage, experts will assist customers with this process. By storing your undamaged belongings, we will be able to keep them safe from the lingering effects of smoke and water.
Any traces of soot, ash, and moisture left behind will contribute to further structural damage and odor issues. To ensure permanent odor removal, technicians will take great efforts to remove ash, including cleaning surfaces of the property, furniture, and even dishes.
When you hire 911 Restoration of Reno, you can be sure that we will go to great efforts to secure the recovery of your property, no matter how severe the damage may be. So, call the repair techs at 775-419-0116 to receive fire cleanup services that are sure to give you a Fresh Start.