Fire Damage Restoration in Fallon, NV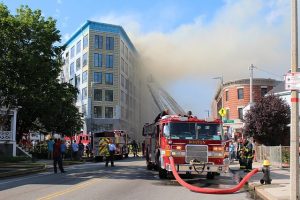 911 Restoration of Reno is dedicated to providing top-notch fire damage restoration services to property owners in the Fallon, NV area. We understand that experiencing a fire or smoke damage disaster can be a traumatic and overwhelming experience, which is why we strive to make the restoration process as stress-free as possible for our customers.
One of the key strengths that set us apart from other Fallon, NV restoration companies is our commitment to excellent communication. We know that clear and timely communication is crucial during a crisis, and our team is trained to keep you informed every step of the way. Know you're in good hands!
Full-Service Fire Damage Restoration Company in Fallon, NV
At 911 Restoration of Reno, we offer a Fresh Start with our comprehensive selection of property damage restoration services, including but not limited to:
Whether you're a Nevada or California homeowner or business owner, 911 Restoration is your Fresh Start! We'll communicate with you throughout the entire process, help answer questions related to insurance, and restore your property to its pre-damaged condition. One of our IICRC-certified teams is dispatched within 45 minutes of your call! Contact us today, and one of our friendly representatives will assist you in finding the nearest Fallon, NV location.
Great Communication During Stressful Times 
From the moment you call us for help, you can count on us to provide updates and keep you in the loop throughout the restoration process.
Our team in Fallon, NV is available 24/7 to take your call and provide the support you need. When you call us, one of our experienced professionals will be on their way to your property within 45 minutes. They will assess the damage and provide you with a free inspection. We understand that time is of the essence when it comes to fire and smoke damage. Because of this, we prioritize prompt service to minimize the extent of the damage.
Our Fallon, NV team will work with you to create a customized restoration plan that meets your specific needs. We use state-of-the-art equipment and techniques to thoroughly clean, repair, and restore your property to its pre-loss condition. 
Not only will we clean up fire damage quickly, but our technicians will extract the water damage caused by the fire department immediately. Our first goal is to prevent further mold and structural issues. If your home or business is damaged by fire, call 911 Restoration of Reno. We will provide the reconstruction and renovation services required to get your property looking better than new.
911 Restoration of Reno administers fast and thorough fire damage restoration, while still keeping your home and belongings in mind. By using gentle fire cleanup techniques like sodablasting, we can mitigate the soot and ash. By doing this, we'll keep your personal items intact.
Our team is skilled in all aspects of fire and smoke damage restoration, and we have the experience and expertise to handle even the most complex cases in Fallon, NV.
Exceptional Fire and Smoke Damage Restoration in Fallon, NV
In addition to our technical capabilities, we are also committed to providing exceptional customer service. Our Fallon, NV team is compassionate and understanding, and we go above and beyond to make sure you feel comfortable and supported throughout the restoration process. We take pride in our work and strive to exceed our customers' expectations at every turn.
If you have experienced a fire or smoke damage disaster in the Reno, Nevada area, call us today. Our team is standing by, ready to provide the help and support you need. We'll get your property and your life back on track. Contact us today to schedule your free inspection and take the first step toward a Fresh Start!
911 Restoration is located at 14830 Kivett Ln, Reno, NV 89521. Give us a call 24 hours a day at (775) 419-0116.
Servicing the cities of Downtown Reno, Fernley, Midtown Reno, Northeast Reno, Northwest Reno, Reno, Riverwalk District, Sparks, Sun Valley, West Reno, and the surrounding areas.