Fire Damage Restoration in Sparks, NV
Fire cleanup needs to be administered as quickly as possible after the disaster occurs. The smoke, ash, and soot have the ability to increase toxicity the longer they sit inside the property. When you hire 911 Restoration of Reno, you can be sure that we will entirely restore your Sparks property from even the most severe fire damage. We will begin the fire damage restoration by giving the property owner a free fire damage assessment and estimate. Our technicians provide complete property restoration in Sparks, including water extraction and drying services.
The flood damage caused by the fire department can be shocking, but rest assured, we can handle it all. 911 Restoration of Reno specializes in both fire and water damage restoration, making us your trusted service provider.
Experienced Fire Damage Restoration Experts in Sparks, NV
Our repair techs have been in the restoration industry for years. We are trained to take care of every aspect of a fire, from the restoration work to insurance logistics. Our vast knowledge makes us a trusted fire information center in the Sparks community.
Along with addressing the water, fire, and smoke damage in Sparks, 911 Restoration of Reno offers free insurance consultations. This assistance ensures that you understand your policy, so you get the coverage you are entitled to receive.
Call 911 Restoration of Reno if you need fire cleanup in Sparks. Our qualified technicians will provide you with the peace of mind you need as soon as we arrive.
Fast and Effective Smoke Damage and Fire Cleanup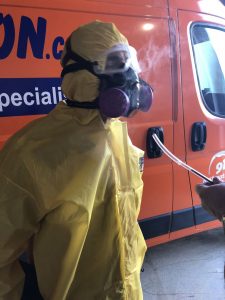 After a fire, soot and ash will settle on all indoor surfaces. When these particles combine with the smoke damage, a strong odor is made that can permeate the whole structure.
Fortunately, 911 Restoration of Reno understands how to remove the smoke smell permanently. Once the fire department has extinguished the flames, we will restore your property entirely with prompt fire damage restoration.
Our technicians will provide thorough ash and smoke removal, taking care to check all the corners and crevasses. We will leave your property smelling fresh and clean by work meticulously to achieve permanent odor removal.
Along with sanitizing the floor, walls, and ceiling, our technicians will safely clean your furniture, belongings, and even the dishes. We use gentle cleaning techniques called soda blasting to ensure everything stays intact.
If the fire damage is severe enough to require the removal of your furniture and other items from the premises, our technicians will facilitate the pack-out and storage procedures.
You can count on us to perform full-service fire cleanup. Call 911 Restoration of Reno as soon as the fire department puts out the flames. We will turn your fire disaster into the Fresh Start you deserve!
We Turn Fire Damage into a Fresh Starts
It does not matter how destructive the fire and smoke damage may be. We have the ability to handle every aspect of the restoration job from start to finish.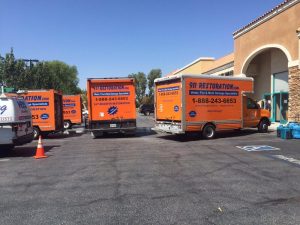 Customer service is an essential aspect of fire damage cleanup. We want you to feel comfortable with all the work being done in your property every step of the way.
If you have never filed an insurance claim before, then you may be unsure about the submission process. To make this step easy on you, we offer a free insurance consultation.
911 Restoration of Reno will not only directly bill your insurance provider but submit your claim for you. By allowing our professionals to handle this part, you can be sure that your provider has all the necessary information they need.
Our technicians will also help you take inventory of your losses and create an itemized list of the damages to send to your insurance company. This step is key in receiving the most coverage from your provider.
We want you to go to 911 Restoration of Reno with everything you need to get through your fire disaster successfully. Call the experts you can trust as soon as you need fire cleanup services, and we will show you that a Fresh Start is possible today!911 Restoration is located at 14830 Kivett Ln, Reno, NV 89521. Give us a call 24 hours a day at (775) 419-0116.
Servicing the cities of Downtown Reno, Fernley, Midtown Reno, Northeast Reno, Northwest Reno, Reno, Riverwalk District, Sparks, Sun Valley, West Reno, and the surrounding areas.