Fire Damage Restoration in Washoe County, NV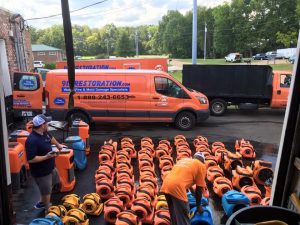 If your home or business has been nailed by a fire or puffback, you may feel like your property will never be the same. It's fine to feel that way; just know that the fire damage restoration crew at 911 Restoration of Reno know that this seemingly major setback is an opportunity for a new beginning. Give us a call at 775-419-0116 and allow us to provide you with a free visual inspection.

911 Restoration of Reno is staffed by IICRC certified fire cleanup technicians who have been extensively trained to do literally whatever it takes to fully restore your property. And by "fully restored," we mean you'll be left with a better-than-new home or business. These technicians handle everything from smoke and odor removal to structural repairs. Has your property been flooded by the firehose? No problem. Your fire cleanup crew is certified in water damage restoration as well. Water damage led to a mold problem? They know how to get rid of an infestation swiftly and completely. They even clean your furniture and dishes, pack out unharmed belongings to keep them safe during the fire damage restoration process, and repair everything from a destroyed roof to singed carpet.
911 Restoration of Reno Knows The Affects Fire Damage Can Have in Washoe County
Your friendly fire cleanup team understands how overwhelming a puffback or property fire can be. Consider these fire and smoke restoration professionals your fire information center. No matter what questions plague you, these experts have the answer. And when they tackle fire cleanup, smoke removal, and puffback cleanup, they do so with total transparency.
Your mind may be spinning, but with 911 Restoration of Reno on your side, you can sit back and hand every worry over to the smoke damage experts. They think of everything so you don't have to. 
Call 911 Restoration of Reno at 775-419-0116 and give yourself a chance to breathe easy.
Smoke Restoration And Puffback Cleanup In Reno
As wildfires are on the rise, Washoe County properties are increasingly at risk of life-altering fire damage. The smoke damage and fire cleanup technicians at 911 Restoration work hard to ensure that their neighbors' worst nightmares transform into a Fresh Start with total property renovation.
Whether you're recovering from a fire or just need puffback cleanup, let 911 Restoration be your go-to for smoke removal and fire cleanup in Reno, Sparks, and the surrounding area. The fire damage restoration technicians do whatever it takes to make your property new again. In fact, our techs use high-tech methods to accomplish permanent odor removal as well as soda blasting for ash, soot, and smoke removal. They clean every square inch of your home or business, including furniture and dishes. They even pack out and store any belongings that remained undamaged, thus protecting them from being harmed during the fire damage restoration process.
Of course, smoke damage and odor removal are not the only concerns to address during fire and puffback cleanup. If you've incurred any permanent damage, the smoke restoration team is on it. They can repair and replace any damaged material, from drywall to roofing to tile floors. If your property suffered water damage from attempts to put out the fire, the fire cleanup crew can handle that, too. They also perform full-service flood cleanup and mold remediation.
A Company You Can Trust For Fire And Smoke Damage Restoration
Perhaps most importantly, you can trust that your dedicated fire cleanup crew always works with your best interests in mind. They understand how devastating a fire or puffback can be and approach your unique situation with compassion, fully invested in delivering peace of mind and lasting solutions. Whether they're providing odor and smoke removal or full-blown property restoration, their goal is to leave you with a property that makes you feel like you've truly risen from the ashes.
We promise this disaster isn't forever. Call 911 Restoration of Reno today at 775-419-0116 and look forward to a Fresh Start.
What Is The Cost Of Fire Damage Restoration?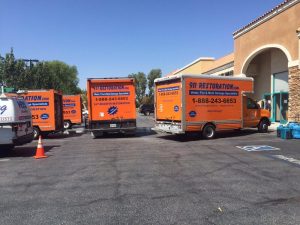 The smoke damage restoration crew at 911 Restoration of Reno is well aware that it takes a little more than excellent service to give you peace of mind at a time like this. You are likely overwhelmed thinking of the potential costs of fire damage restoration and smoke removal. 
The fire and puffback cleanup staff do all they can to ease that burden. In addition to offering affordable prices, the technicians provide a free fire damage assessment before service even begins. That way you know exactly what lies ahead and what expenses you can expect.
The crew also offers a free insurance consultation. Fire damage restoration isn't all smoke removal and cleaning soot. The process can include so many different services such as flood cleanup, roof repair, and mold inspection. If you have trouble figuring out which services are covered by your insurance provider, don't worry about it. A fire damage restoration specialist on staff will sit with you to explain your coverage. They even help with inventory and loss itemization, file a claim on your behalf, and bill your provider directly.
911 Restoration of Reno has worked hard to provide the very best fire damage restoration in Reno and the surrounding area. Our smoke restoration technicians want the very best for our neighbors. Expert IICRC-certified technicians are standing by to help you rebuild better than ever.
Servicing the cities of Downtown Reno, Fernley, Midtown Reno, Northeast Reno, Northwest Reno, Reno, Riverwalk District, Sparks, Sun Valley, West Reno, and the surrounding areas.