Water Damage and Mold Removal in Downtown Reno, NV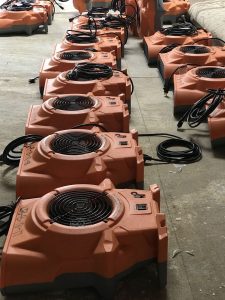 If you need emergency water damage restoration in Jacksonville and throughout Downtown Reno, look no further than 911 Restoration of Reno. Our phone lines are open 24/7/365, and no matter when you call—weekends, holidays, or the middle of the night—a flood cleanup crew will be at your door in 45 minutes or less. The staff at 911 Restoration understands that there is no time to waste when it comes to water damage. Whether it's a residential or commercial property, lingering water can lead to major damages and cause a huge interruption to your life. That's why your dedicated water damage restoration experts work quickly to get you through this challenging time with as little worry and expense as possible.
Full-Service Water Restoration Company in Reno, NV
At 911 Restoration of Reno, we offer a Fresh Start with our comprehensive selection of water damage restoration services in Reno, including but not limited to:
Whether you're a Nevada homeowner or business owner, 911 Restoration is your Fresh Start! We'll communicate with you throughout the entire process, help answer questions related to insurance, and restore your property to its pre-damaged condition. One of our IICRC-certified teams is dispatched within 45 minutes of your call! Contact us today, and one of our friendly representatives will assist you in finding the nearest location.
Certified Flood Damage Cleanup in Reno, NV
You can rest assured that these flood cleanup technicians work to the highest standards of the industry. Every staff member is IICRC certified and extensively trained in all aspects of water damage restoration, mold inspection, and mold removal. From water extraction to leak detection to sewage restoration, they handle it all. They even repair any surfaces or structures that cannot be salvaged, ensuring that your property is left better than new.
Your peace of mind is Priority One for 911 Restoration of Reno. You can expect clear communication, the highest standards in service, and compassionate attention. You can even count on less financial strain with our affordable rates and free insurance consultation. A water damage restoration professional reviews your insurance plan with you so you fully understand which services your provider covers, from emergency boarding up to mold decontamination.
A pipe burst or flooded toilet can be an overwhelming experience, but you're not in this alone. Call 911 Restoration of Reno for fast, comprehensive flood cleanup in Downtown Reno.
Emergency Flood Damage Restoration in Reno, NV
When those cold winter temperatures freeze your pipes and you wind up with a pipe burst in the middle of the night, you can't afford to wait for business hours. With gallons of water spraying into your home or business, you're looking at a high potential for weakened floorboards, rotting drywall, and mold development. The faster you get help, the better your chances of avoiding costly damage.
The water damage restoration technicians at 911 Restoration approach your flood cleanup emergency with total empathy. They understand how urgent the situation would feel if they were in your shoes, so they handle your water damage disaster with the immediate attention it deserves. Our experts arrive at your property within 45 minutes of your call and are immediately set to work, offering a free visual inspection for property owners and sizing up the situation to design the most effective water damage restoration strategy.
They can handle any emergency need you have, including boarding up, roof repair, storm repair, leak detection, and water or sewage removal. Once the area has been cleared, they dry out your property with professional fans to prevent mold and test the structures for weakness or damage. And what if they find damage? They come fully prepared to repair any problems that arise. That means drywall replacement, carpet removal, roof patching…no matter what's broken, they have the skills and training to fix it. No need to go through the headache of hiring another contractor.
Where you see a disaster, your dedicated flood cleanup crew sees an opportunity for a Fresh Start. They work diligently to leave you with a home or business that feels stronger than ever.
For the most comprehensive flood cleanup in Jacksonville, call 911 Restoration of Reno. 
Black Mold Remediation In Reno, NV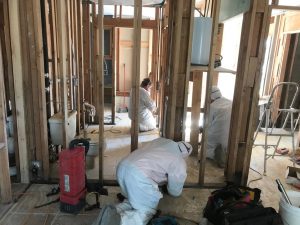 Even with emergency flood cleanup services, water damage incidents like pipe bursts can still lead to mold infestation. Mold spores act quickly when there are damp surfaces around them, and they only need 24-48 hours to create a new mold colony. Sometimes even the swiftest flood restoration efforts aren't quick enough to dry out the area before mold sets in. That's why 911 Restoration doesn't consider your water damage restoration job complete until they've conducted a professional mold inspection.
Mold inspection and mold removal are so essential because infestations often develop in dark, hidden corners. If they go undetected, they're allowed to thrive. This can cause significant damage to your property and pose major risks to your health. 
Mold Removal and Remediation in Downtown Reno
If you think you have a mold infestation, it's important to get a mold inspection from a certified professional. A mold remediation specialist can determine if spores have moved throughout your property and set up additional colonies in other areas. It's also important to leave mold removal to the professionals, as toxigenic species such as black mold can be dangerous. The IICRC-certified mold remediation experts at 911 Restoration know how to handle black mold removal thoroughly, drying out the structure of your property with professional fans to ensure mold spores aren't left with a damp surface to create another colony. 
Not to mention, if you attempt black mold removal yourself, you could potentially release mycotoxins. It's best to keep your distance from a mold infestation until trained professionals can conduct safe and complete mold removal.
There is no question that water damage emergencies can wreak havoc. Pipe bursts, sewage backups, and other flood damage emergencies can lead to a complex series of property damage and health risks. But with 911 Restoration of Reno, you can rest assured you're in good hands. From water removal to mold remediation, we'll make your home or business new again.
911 Restoration of Reno is located at 14830 Kivett Lane, Reno, NV 89521. Give us a call 24 hours a day at (775) 419-0116.
Servicing the cities of Downtown Reno, Fernley, Midtown Reno, Northeast Reno, Northwest Reno, Reno, Riverwalk District, Sparks, Sun Valley, West Reno, and the surrounding areas.