Water Damage Restoration in Northeast Reno
There is so much more to repairing leaks and floods than just cleaning away water stains, and it takes the experienced hand of a professional technician to issue competent water damage restoration.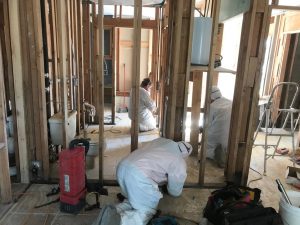 911 Restoration of Reno employs technicians who are exceptionally trained to handle every aspect of a water remediation job, from the flood cleanup to insurance consultations.
The repair techs know how crucial it is to act fast when dealing with water disasters, such as pipe bursts, home floods, and ceiling leaks, because stagnant moisture creates subsidiary problems, such as water damage to wood structures and mold colonies.
To assist you with water damage restoration in Northeast Reno, the moment you encounter one of these issues, the repair techs stay available 24/7/365 and guarantee to arrive at your property within 45 minutes of receiving your call.
Our restoration company is licensed, bonded, and insured for your protection and have earned our IICRC certification. These accreditations make us the most qualified organization in the industry.
Call 911 Restoration of Reno as soon as you notice water stains or mold in your residential or commercial property and their technicians will provide you with the peace of mind you need.
Around The Clock Flood Cleanup Services
There is no time to waste when it comes to water remediation, especially when customers call reporting an active flood occurring within their property.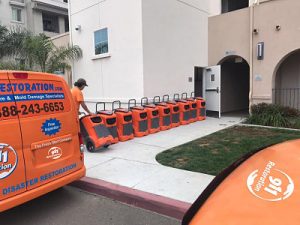 Most of the time these floods happen as a result of a pipe burst, which can allow hundreds of gallons of water to spray into your property within a matter of hours. 
However, when you call 911 Restoration of Reno in need of emergency flood cleanup services, the staff member will walk you through some steps you can take to minimize the water damage before the technicians arrive.
The main thing you can do is shut off the main water valve in the property. Closing the valve will shut off all the water flowing into the home or business, which in turn will stop water from spraying out of the broken pipe.
Another step you can take to help the water damage restoration is to remove your belongings from the flooded area. This is especially important if you have valuable items or documents stored in the room.
Once the technicians arrive, they will initiate the flood cleanup in Northeast Reno that includes water extraction, drying, and dehumidifying services. So, call 911 Restoration of Reno today to receive help from a team that cares and understands your needs.
A Water Restoration Company You Can Trust
Discovering water damage in your home is always unsettling, especially when you begin to think about the all the tasks you need to complete on your end- hire repair workers, document your losses, contact your insurance company, and figure out how you're going to pay for it all.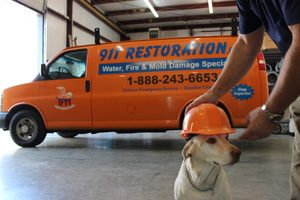 Fortunately, when you call 911 Restoration of Reno, the staff members will immediately reassure you that from that moment on, we will handle everything.
The technicians will give property owners a free visual inspection during which they will determine the extent of the water damage and formulate an estimate. This is the time that they will create a restoration strategy specifically made for your situation.
Once a plan of action is made, repair techs will use powerful equipment to remove the bulk of the water and air movers and dehumidifiers to evaporate the rest of the moisture.
Thorough drying techniques are an integral part of the water damage restoration process to prevent mold, rot, and rust from forming, all issues that can create structural damages in your home or business.
You do not have to be alone in this fight. Call 911 Restoration of Reno to get the water damage restoration services you need to turn your flooded property into a Fresh Start!
Servicing the cities of Downtown Reno, Fernley, Midtown Reno, Northeast Reno, Northwest Reno, Reno, Riverwalk District, Sparks, Sun Valley, West Reno and the surrounding areas.