Tips for Dealing with the Coronavirus Pandemic in Reno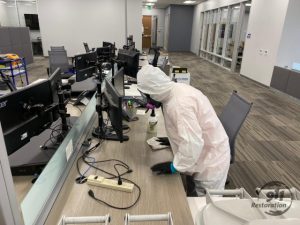 The coronavirus pandemic has left many in Reno anxious about their lives and their livelihoods. For a community that thrives on social engagement, a highly contagious virus represents a tremendous threat. We at 911 Restoration of Reno know how strong our neighbors are. We'll get through this. But a quick recovery tomorrow requires extreme precautions and sanitization services today.
If you have been resisting social distancing measures, know that a temporary lifestyle change is unavoidable. Coronavirus is highly contagious and potentially deadly to many members of our community. While senior citizens and those with pre-existing medical conditions are the most vulnerable, even young and healthy individuals have faced severe complications. The truth is, we will not be able to think about rebuilding our community or tourism industry until we have the virus under control. To do this, everyone in Reno and throughout Nevada must comply with recommended guidelines.
What You Can To Stay Safe
Become familiar with common coronavirus symptoms. If you experience a cough, shortness of breath, or fever, call your doctor for advice. Keep an eye out for emergency warning signs as outlined by the Centers for Disease Control. Symptoms such as difficulty breathing, new confusion, or bluish lips or face require immediate medical attention.
Do not leave your home unless it is absolutely necessary. Wash your hands frequently and for twenty seconds at a time. Wear a cloth mask when you go out. Disinfect surfaces throughout your home. If you own a commercial facility, be especially diligent with sanitization. At a time when people are afraid to enter public spaces, deep cleaning can provide peace of mind for customers and employees.
Consider calling 911 Restoration of Reno for professional disinfection services. We serve both homes and businesses throughout Reno and beyond. Our sanitization experts are trained to follow CDC and EPA protocols. Not only do they provide the highest standard of service, but they also treat you with compassion. These are difficult times. So much remains unknown, and so much is at stake. Our sanitization technicians understand what you're going through, and they do what they can to provide deep cleaning and honest answers.
Reno is tough. We will get through this. In the meantime, know you can always count on 911 Restoration for service and support.
911 Restoration of Reno is located at 4583 Longley Lane #4 Reno, NV 89502. Give us a call 24 hours a day at (775) 419-0116.
Serving the communities of Downtown Reno,NV, Fernley,NV, Midtown Reno,NV, Northeast Reno,NV, Northwest Reno,NV, Reno,NV, Riverwalk District, Sparks,NV, Sun Valley,NV, West Reno,NV, Fallon,NV, Cold Springs,NV, Lockwood,NV, Spanish Springs,NV, Virginia City,NV, Susanville, CA, McMarran, NV, and the surrounding areas.