Burst Pipe Water Damage Repair and Restoration in Reno, NV
If you've ever experienced a burst pipe in your Reno, NV home, you know firsthand the extent of the damage it can cause. Water can quickly spread throughout the home, soaking into carpets, walls, and furniture and causing extensive damage. That's where 911 Restoration of Reno comes in. Our team of professional water damage restoration experts is here to help you repair and restore your home to its pre-loss condition.
What Causes Burst Pipes In the First Place?
But what causes pipes to burst in the first place? There are several factors that can contribute to a burst pipe. One of the most common is freezing temperatures. When water inside a pipe freezes, it expands, putting pressure on the pipe and eventually causing it to burst. Age and wear can also weaken pipes, making them more prone to bursting. And high water pressure can also put too much strain on pipes, leading to a burst.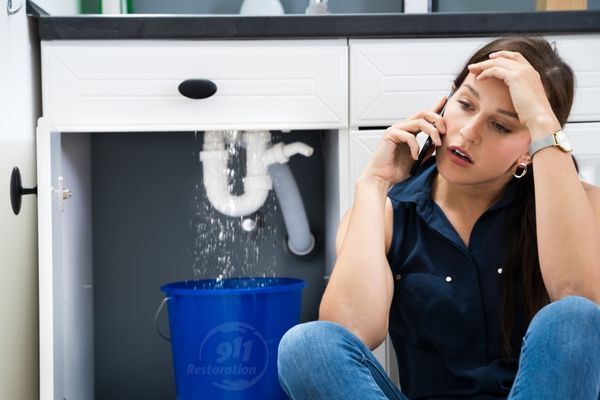 The consequences of a burst pipe can be serious. In addition to the water damage itself, a burst pipe can also lead to mold growth if not addressed quickly. And the repairs can be costly, especially if the damage is extensive. That's why it's so important to act fast when you have a burst pipe.
At 911 Restoration of Reno, we understand the importance of fast and effective action in the face of water damage. That's why we offer a range of services to homeowners who have experienced a burst pipe or other water damage emergency. Our team will quickly extract the standing water and dry out the affected areas, using specialized equipment like dehumidifiers and air movers. We'll also repair and reconstruct any damaged areas, ensuring that your home is returned to its pre-loss condition.
Prevent Burst Pipes From Happening in Reno, NV
Of course, the best way to deal with a burst pipe is to prevent one from happening in the first place. Here are a few tips to help you avoid this type of water damage emergency:
Insulate your pipes: Adding insulation to your pipes can help to prevent them from freezing during cold weather.
Maintain a consistent indoor temperature: Keeping your home at a consistent temperature can help to prevent pipes from freezing.
Check for signs of wear or damage: Regularly inspecting your pipes for signs of wear or damage can help you identify potential problems before they become emergencies.
If you do experience a burst pipe or other water damage emergency, don't hesitate to contact the professionals at 911 Restoration of Reno. We're here to help you repair and restore your home, so you can get back to your normal life as quickly as possible.
911 Restoration of Reno is located at 4583 Longley Lane #4 Reno, NV 89502. Give us a call 24 hours a day at (775) 419-0116.
Serving the communities of Downtown Reno,NV, Fernley,NV, Midtown Reno,NV, Northeast Reno,NV, Northwest Reno,NV, Reno,NV, Riverwalk District, Sparks,NV, Sun Valley,NV, West Reno,NV, Fallon,NV, Cold Springs,NV, Lockwood,NV, Spanish Springs,NV, Virginia City,NV, Susanville, CA, McMarran, NV, and the surrounding areas.