5 Tips For Spotting Mold In Your Home
Mold can be a serious problem in any home. It can cause health issues and damage your home, making it difficult to remove. It's much easier to remove mold in your Reno, NV home if it's in the early stages. That's why it's essential to identify and address mold growth as soon as possible. Here are 5 tips for spotting mold in your home:
1. Look for visible signs of mold growth. 
Mold often appears dark, fuzzy, or slimy on walls, ceilings, and other surfaces. It can also grow in hidden areas such as behind walls or under floorboards, so check these areas.
2. Pay attention to musty odors. 
Mold often has a distinctive musty smell, so if you notice an unusual odor in your home, it could be a sign of mold growth.
3. Check for water damage. 
Mold tends to grow in damp or humid conditions, so the mold may develop if you've had any water leaks or flood damage in your home.
4. Watch for respiratory symptoms. 
If you or anyone in your home has respiratory symptoms such as coughing, sneezing, or difficulty breathing, it could be a sign of mold exposure.
5. Consider hiring a professional. 
If you're unsure whether you have mold in your home or cannot locate the problem's source, it may be worth hiring a professional mold inspector to assess the situation. 911 Restoration of Reno has the knowledge, experience, and specialized equipment needed to identify and remove mold from your home.
Best Mold Remediation and Removal Experts in Reno, NV
We will dispatch an IICRC-certified mold remediation expert to your property within 45 minutes! Don't wait until the last moment. Call us today at (775) 419-0116.
By following these tips, you can help protect your family's health and preserve the value of your home. If you do find mold in your home, it's essential to address the issue as soon as possible. Removing mold can be complex and time-consuming, but with 911 Restoration of Reno, you can successfully get rid of it and prevent it from returning.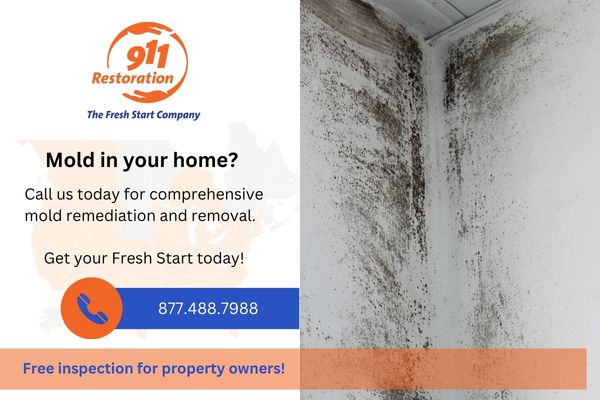 Comprehensive Water Damage Restoration in Reno, NV
911 Restoration of Reno is a trusted provider of water damage and mold remediation services in Reno, NV. We understand that water damage and mold growth can be stressful and overwhelming for property owners, which is why we offer fast, reliable, and comprehensive services to help get your home or business back to normal as quickly as possible. 
We pride ourselves on our customer service and our team of certified and experienced professionals is dedicated to helping you through every step of the restoration process. In addition, we offer a free inspection for property owners to assess the extent of the damage and provide a comprehensive remediation plan. If you're in need of water damage or mold remediation services in Reno, don't hesitate to reach out to 911 Restoration of Reno. 
911 Restoration of Reno is located at 4583 Longley Lane #4 Reno, NV 89502. Give us a call 24 hours a day at (775) 419-0116.
Serving the communities of Downtown Reno,NV, Fernley,NV, Midtown Reno,NV, Northeast Reno,NV, Northwest Reno,NV, Reno,NV, Riverwalk District, Sparks,NV, Sun Valley,NV, West Reno,NV, Fallon,NV, Cold Springs,NV, Lockwood,NV, Spanish Springs,NV, Virginia City,NV, Susanville, CA, McMarran, NV, and the surrounding areas.