Water Damage Restoration in Riverwalk District, Reno, NV
Recovering from a water disaster takes the skilled hand of a professional who understands the powerful nature of water and all the subsequent issues that can arise from water damage.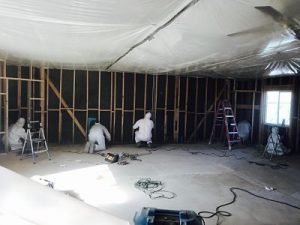 The technicians at 911 Restoration of Reno are qualified to execute water damage restoration, along with implementing mold removal and decontamination services. They are ready to perform these comprehensive, restoration services on a moment's notice.
We understand that water emergencies can happen literally at any time. This is why technicians are available 24/7/365 to administer leak and flood cleanup. Whether you call during the day or night, we guarantee to be at your property within 45 minutes. We begin same-day, water damage restoration.
Keeping you feeling safe and secure is the priority of the technicians. They prove their dedication to this level of professionalism by being licensed, bonded, and insured for your protection.
The water damage repair workers at 911 Restoration of Reno are also IICRC-certified, meaning they are trained and educated by the Institute of Inspection, Cleaning, and Restoration.
When you need flood cleanup in the Riverwalk District in Reno from a team that cares and understands your needs, call 911 Restoration of Reno today!
Expert Drying And Water Damage Restoration In the Riverwalk District
Despite the minimal rainfall in the Riverwalk District, homes and businesses are still at risk of experiencing water damage. This can end up needing flood cleanup services.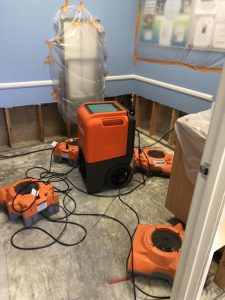 The cold temperatures in the winter create frozen pipes which lead to pipe bursts that can be exceptionally damaging. Burst pipes can spray hundreds of gallons of water into your property, creating significant flood damage.
When dealing with this level of water damage, it is crucial for professionals to administer immediate flood cleanup services. By using powerful sump pumps and wet vacuums, we will extract the bulk of the water, which helps prevent water damage to wood structures, mold, and mildew.
The repair techs will then use air movers and dehumidifiers to remove any lingering moisture to get the property as dry as possible. The dryer the space, the least likely the chances are that mold will infest the area.
If you have drywall and other porous materials in the affected space, they can quickly absorb moisture and become the perfect breeding ground for mold. To prevent mold in walls from water damage, technicians will remove the drywall altogether and replace it with new sheetrock.
If you discover signs of mold or water damage in your property do not hesitate to call 911 Restoration of Reno to receive the peace of mind you need to recover from a water disaster.
A Free Water Damage Inspection For Property Owners
Even though most of the time it is undeniable that your property has been impacted by water damage, sometimes a leak or flood can occur without you knowing for quite some time.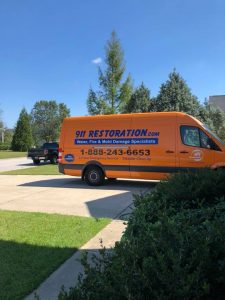 If you are unsure whether or not you need help from a professional restoration company, technicians make it easy for you to make the decision by providing property owners with free inspections.
These free examinations allow us to determine the full extent of the damage. This also allows us to figure out a water damage restoration strategy specific to your home or business.
Free Assistance With Insurance Claims
Along with free inspections, staff members will also provide free insurance consultations. We understand that many customers have never had to file a claim for water damage before. And because of that, you may not know what coverage you are entitled to receive.
We want you to get the most out of your insurance policy and will even submit your claim for you. Even if you need to pay out-of-pocket, there is no reason to be alarmed. 911 Restoration of Reno keeps their services affordable and accessible to the entire community.
When you need water damage restoration in your residential or commercial property, call 911 Restoration of Reno today, and the highly trained technicians will turn your water emergency into a Fresh Start.
Serving the communities of Downtown Reno,NV, Fernley,NV, Midtown Reno,NV, Northeast Reno,NV, Northwest Reno,NV, Reno,NV, Riverwalk District, Sparks,NV, Sun Valley,NV, West Reno,NV, Fallon,NV, Cold Springs,NV, Lockwood,NV, Spanish Springs,NV, Virginia City,NV, Susanville, CA, McMarran, NV, and the surrounding areas.