Protect Your Home or Business All Season Long: Tips to Prevent Ice Dams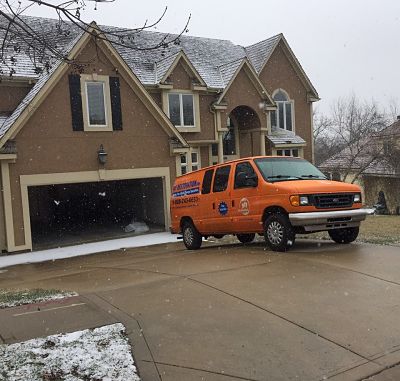 Ice dams are a common winter problem that can lead to significant damage to your home or business. They form when warm air rises through your roof and melts snow, which then refreezes at the edge of your roof. Prevent ice dams in Reno today.
As this process repeats, the ice dam grows larger and larger, trapping water behind it and causing water to seep into your property. The resulting water damage can be extensive and expensive to repair. Prevent ice dams in Reno today.
Understand the Ways of Ice Dam Damage Prevention in Reno
At 911 Restoration, we understand the devastating effects of ice dams on your property. That's why we're here to help you protect your home or business from ice dams all season long. 
With these expert tips, you can avoid costly damages and keep your property safe with preventive measures.
Keep Your Attic Cool
The first step in preventing ice dams is to keep your attic cool. Insulate your attic floor to prevent warm air from escaping through the roof. Proper insulation can also help reduce your heating bills in the winter. Additionally, ensure that your attic has proper ventilation to allow air to circulate and prevent the buildup of warm air.
Clean Your Gutters
Clogged gutters can cause water to back up and freeze, leading to ice dams. Clean your gutters regularly to prevent this buildup. You can also install gutter guards to help keep leaves and debris out of your gutters.
Remove Snow
Removing snow from your roof can prevent ice dams from forming. Use a roof rake or hire a professional to safely remove snow from your roof. Be sure to remove snow from the edges of your roof, where ice dams are most likely to form.
Seal Leaks
Any gaps or cracks in your roof or attic can allow warm air to escape, leading to ice dams. Seal any leaks with caulk or foam insulation to prevent this from happening.
Hire a Professional for Ice Dams in Reno
If you're not comfortable with performing any of these tasks yourself, it's best to hire a professional. A qualified roofing or insulation contractor can inspect your property and recommend the best course of action to preventing ice dams in Reno.
In conclusion, preventing ice dams requires a combination of proper insulation, ventilation, and maintenance. By following these IICRC-certified expert tips from 911 Restoration, you can protect your home or business from costly water damage caused by ice dams. And in the event that you do experience water damage, remember that we're here to help. We understand the importance of great communication during a stressful emergency, and we'll work with you every step of the way to restore your property to its pre-damaged condition.