Leave the Dirty Work to Us – 911 Restoration for Sanitization Services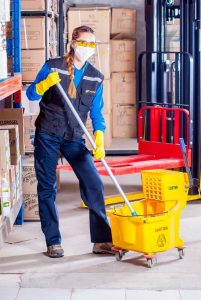 The ongoing COVID-19 pandemic has changed the way the world views sanitization and disease control. This highly resilient and contagious virus has called for even more intense and thorough cleaning and disinfecting than ever before. Homeowners and commercial property owners have started to maintain stricter and more rigorous disinfection and sanitization schedules. This is especially important since the coronavirus can remain on surfaces for different surfaces, ranging from a few hours to days.
As vaccines have become widely available and businesses are opening up, it has become even more important to keep to this schedule and avoid becoming complacent. The delta variant of the virus is even more infectious than previous variants, and businesses and people have to take the proper precautions to prevent community transmission. While sanitization and disinfection services were always important, they have become an essential part of daily life. Here are some reasons you should leave sanitization and disinfection to the experts at 911 Restoration of Reno.
The Importance of Air Quality and Cleanliness
One of the reasons COVID-19 is so dangerous is because of airborne transmission. When infected people cough, sneeze, or even talk, they disperse droplets containing the virus throughout the air via their noses and mouths. People within 6 feet of infected individuals can breathe these in and succumb to the virus themselves. Additionally, the virus can stay in the air for hours, making regular cleaning and disinfection extremely important.
The pandemic has changed a lot of things, and the new normal consists of individuals and businesses worrying about the air we breathe in. We're all on high alert, and although masks and social distancing are a huge part of avoiding the spread of this deadly virus, keeping surfaces and the air clean is also essential. 911 Restoration of Reno ensures this with its comprehensive sanitization services.
Protecting Your Family and Employees
While many who contract the virus do recover, this isn't the case for everyone. Millions have died from COVID-19, and this pandemic is more deadly for some than others. Vulnerable members of society, such as the elderly and the immunocompromised, are high risk and need to be protected. Even if you don't think you will contract the illness and die, you might pass it on to others. There's no way to figure out who will or will not come into contact with high-risk individuals, making it essential to protect those around us.
This becomes even more important when we realize that COVID-19 patients may not display symptoms for up to 14 days but can still spread the virus when they're asymptomatic. As schools and businesses open up, we all need to maintain social distancing, but we also need to invest in sanitization and disinfection to prevent the spread of the virus.
This becomes especially important for business and property owners who are concerned for both their families and their employees. As more employees return to work in person and places open up, property owners must invest in the proper disinfection and sanitization protocols to protect their employees and clients. This is also important for homes, especially if you have high-risk family members.
In-Depth Cleaning and Disinfection
While anyone can clean surfaces, not all services provide the in-depth cleaning and disinfection that is required during this pandemic. Basic mopping, scrubbing, and wiping aren't enough during this time. Reaching every nook and cranny may not be a priority for most companies, but 911 Restoration prides itself on professional and in-depth sanitization services.
Proper Tools, Procedures, Equipment, and Solutions
Unfortunately, not every company uses the proper safety procedures and the correct equipment when tackling large spaces. Properly sanitizing and disinfecting a space requires different cleaning solutions, disinfectants, masks, gloves, and more. Professionals like 911 Restoration of Reno know which tools are the right ones for the job and which cleaning solutions to implement in which places.
Additionally, we keep consumer safety in mind when choosing cleaning products, so we'll never use products that are toxic or can harm you, your family, or your employees.
Call 911 Restoration of Reno for Sanitization Services
Whether you're a homeowner or a commercial property owner, we understand the responsibility you feel when it comes to keeping those around you safe. That's why 911 Restoration of Reno offers sanitization and disinfection services to everyone, including retail stores, offices, schools, etc. From residential sanitization to office deep cleaning, we cover it all.
Additionally, you can rest assured knowing that our employees are highly trained and follow all CDC and EPA protocols and will ensure a comprehensive service so that you can achieve peace of mind. Our services are available 24/7, and we even offer free visual inspections to property owners. 911 Restoration of Reno can respond to your call within 45 minutes if you're in Reno or the wider region. Call us at (775) 419-0116 or contact us here for more information.
911 Restoration of Reno is located at 4583 Longley Lane #4 Reno, NV 89502. Give us a call 24 hours a day at (775) 419-0116.
Serving the communities of Downtown Reno,NV, Fernley,NV, Midtown Reno,NV, Northeast Reno,NV, Northwest Reno,NV, Reno,NV, Riverwalk District, Sparks,NV, Sun Valley,NV, West Reno,NV, Fallon,NV, Cold Springs,NV, Lockwood,NV, Spanish Springs,NV, Virginia City,NV, Susanville, CA, McMarran, NV, and the surrounding areas.