In Reno, We Offer A Mold Free Guarantee
Our mold removal team understands that discovering a mold infestation in your property can cause any homeowner to go into a panic, especially when you have no idea what kind of mold is in your home or how deep the infestation goes.
Luckily, 911 Restoration Reno has licensed, bonded and insured service agents standing by around the clock to take your call, so you never have to feel like you are alone in this situation.
We employ repair workers who have extensive experience remediating all types of mold, fungi and mildew issues. Not only will our IICRC certified technicians remove every trace of mold in your property, but we will also test the spores to determine exactly what type of mold you are dealing with.
Proper testing is crucial when it comes to clearing your property of mold spores, because there are many different types of mold that can cause a range of health issues if not removed from the premises quickly.
Normal varieties of mold can cause people to experience allergy-like symptoms and respiratory issues, while dangerous black mold can cause internal bleeding and even fatalities. By calling our mold removal professionals as soon as you find signs of mold and mildew in your home or business, we can restore your property and keep your health in tact.
We Start Every Job With A Free Visual Mold Inspection
Our specialists offer mold removal and testing services to property owners of both residential and commercial buildings. If you own an apartment building or rent homes to tenants, then more often or not the people renting the space will be the first to notice signs of a mold infestation.
In these cases, our mold removal agents will need to make arrangements with the property owner to get our cleanup unit to the building to begin inspecting both the interior and exterior of the property.
If you are not able to check out the issue yourself before our staff arrives at the property, you don't have to worry about incurring any financial risk, because we offer free visual mold inspections to all home and business owners. This way you won't be charged if we determine that there is not actually any mold growing in your building. Our agents never want you to have any reason to hesitate to call our offices.
So, call our mold removal specialists when you or your tenants have any inquiry about an infestation in your property and we will arrive quickly to begin surveying the area.
Our Pros Stand By The Mold Free Guarantee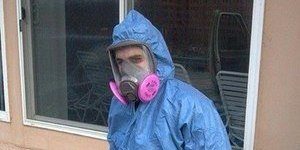 If our mold removal technicians do find mold growing in your home or business, then we will begin the remediation procedures right away. By acting fast we will immediately halt the infestation and get started repairing the damage that has already taken place.
We have years of experience in this field and know exactly what to do to get every trace of mold removed from the premises. This includes remediating any water damage in the area, because we understand that moisture and mold go hand in hand.
Once our mold removal agents have finished the job, we will hire a third party mold removal team to come in a check on our work. This is all part of our mold free guarantee to ensure customers that no spore is left behind.
We will continue to work until the affected area meets not only our high standard, but the standards of the third party consultant. So, call our mold removal specialists today and before you know it we will have you on the road to a fresh start!