Fire Damage Restoration in the Riverwalk District, Reno, NV
Fire and smoke damage creates too complicated a situation for you to handle on your own. Even a small kitchen fire will create significant ash and smoke damage that can spread throughout the entire property. 911 Restoration of Reno understands the urgency of administering fire damage restoration in the Riverwalk District. Our technicians are ready to provide prompt fire cleanup in the Riverwalk District that includes water damage repairs. Fire hoses typically create severe flood damage that requires professional water damage restoration. When you need help, you can depend on 911 Restoration of Reno to provide full-service fire damage repairs.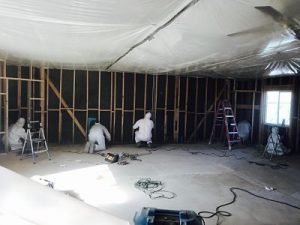 Our technicians will give property owners a free fire damage assessment as soon as we arrive. During this initial inspection, we will determine the extent of the damage and provide you with a free estimate.
We want you to feel confident that there is no risk in working with our restoration company. Along with hiring experienced, qualified professionals, we are licensed, bonded, and insured for your protection.
You can have total confidence in our technicians' ability to handle every aspect of your fire disaster. 911 Restoration of Reno employs IICRC certified professionals who are backed by the Institute of Inspection, Cleaning, and Restoration. 
Our technicians will treat your property as if it were our own. We make sure to handle your possessions with care during the fire cleanup procedures. If the situation requires the removal of your belongings, we will facilitate the pack-out and storage procedures.
911 Restoration of Reno is ready to execute a fire damage restoration strategy that will get your property looking better than new. So, call the team that you can trust to give you the Fresh Start you deserve!
Complete Fire Restoration That Will Leave Your Property Safe and Clean
When you hire 911 Restoration of Reno, you can expect our repair techs to remove every trace of soot, ash, and smoke.  We'll remove all of the soot, ash, and debris left over. Removing this aftermath is only the first step of fire damage restoration in the Riverwalk District.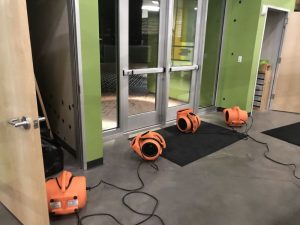 To further reduce the smoke smell in your home or business, our technicians will use special cleaning agents that remove the tar residue created by fire and smoke.
Along with addressing the fire and smoke damage, our repair techs make water damage cleanup a part of their fire damage restoration strategy.
The fire department has to flood the property to extinguish the flames, and by doing so, they create extensive water damage.
Our IICRC-certified technicians will extract all of the water from the premises and evaporate any lingering moisture. Drying services are a crucial step since the indoor humidity created by the fire can make optimal living conditions for mold and mildew.
Upholding your safety is always at the forefront of everything we do. We will make all the structural repairs so you can be sure your property is safe and secure. 
When you need fire damage restoration in the Riverwalk District, call 911 Restoration of Reno right away. You can sit back and relax while we take care of all the renovations. 
911 Restoration will Guide You Through the Entire Fire Cleanup Process
There is no need to deal with the aftermath of a fire on your own. Our technicians will be there to walk you through every step of the fire cleanup.
Property fires are rare, so the chances are that this is your first time filing an insurance claim for fire and smoke damage. Understandably, it can be overwhelming to deal with the submission procedures, but we are here to help.
To make the insurance process go smoothly, 911 Restoration of Reno offers free insurance consultations. By allowing a professional to go over your policy, we will determine the full extent of your coverage.
We'll Help You File The Insurance Claim 
The best way to receive complete financial assistance is to submit as much detailed information as you can about your losses. Our technicians will help you take inventory of the fire damage and create an itemization list for your insurance provider.
We don't want you to concern yourself with submitting this information on your own. Our staff members will file your claim and directly bill your insurance company. 
When you work with 911 Restoration of Reno, you will receive help from all angles. Call the Fresh Start Company when you need fire damage restoration in the Riverwalk District from a team that cares and understands your needs!
911 Restoration is located at 4583 Longley Lane #4 Reno, NV 89502. Give us a call 24 hours a day at (775) 419-0116.
Servicing the cities of Downtown Reno, Fernley, Midtown Reno, Northeast Reno, Northwest Reno, Reno, Riverwalk District, Sparks, Sun Valley, West Reno, and the surrounding areas.