Fire Restoration Company in Reno, NV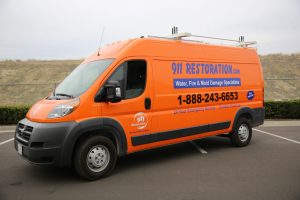 Smoke, odor, and soot have a way of making a beloved property seem suddenly unrecognizable. If you've been through a property fire or a puffback, you may understandably feel like your home or business will never be the same. Believe it or not, the right fire damage restoration company in Reno can restore the refuge you once loved to better-than-new condition. That contractor is 911 Restoration of Reno, and dedicated fire cleanup technicians are ready and waiting to give you the relief of a Fresh Start.

Our fire and smoke restoration company is staffed exclusively by highly trained, IICRC-certified fire damage restoration technicians. In fact, they are experts in every aspect of fire cleanup, including smoke removal, odor removal, sodablasting, and damage repairs. They even manage water damage restoration and mold removal if your property has been flooded by the firehose.
911 Restoration is licensed, insured, bonded, and nationally respected for high standards and compassionate customer service. The Reno branch is locally owned and operated. The smoke damage and fire cleanup staff recognize you first and foremost as a neighbor. They work hard to give you genuine support and the highest quality service, whether you're recovering from a property fire or are in need of puffback cleanup. 
No matter what you've been through, 911 Restoration of Reno is here to get to the other side. Your home or business really can be even better than before. For quality fire damage restoration in Reno, call 911 Restoration at 775-419-0116.

Comprehensive Fire Cleanup In Reno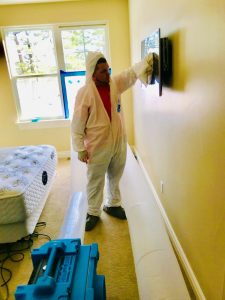 Do you need puffback cleanup in Reno? Smoke removal? We are your full-service fire restoration company in Reno.
Whatever your needs are, this crew has them covered. The fire and smoke restoration technicians at 911 Restoration have undergone rigorous training to deliver the best possible service to property owners in the Reno area. They can pack out and store your belongings to keep them safe during fire or puffback cleanup. They use sodablasting to handle soot, ash, and smoke removal. Your friendly fire restoration company in Reno even cleans the surfaces of your home or business, including furniture and dishes.
Oftentimes, fire and puffback cleanup also call for damage repairs. With 911 Restoration of Reno, you get a single company that does it all. You name the surface or structure, they can repair it. The result is a better-than-new property without ever hiring additional contractors.

Water and Fire Restoration Company in Reno
Additionally, after a fire, oftentimes there is leftover water damage. Fortunately, our fire restoration technicians also specialize in water damage restoration. They can manage any flood cleanup need, and that includes mold inspection and decontamination.
No matter what your unique situation calls for—from smoke removal to puffback cleanup to roof repair—you can trust 911 Restoration to honor your peace of mind above all else. These experts have managed countless instances of smoke restoration in Reno and beyond, and they understand exactly what you're going through. They get out in front of anything that could cause you stress and anticipate your needs with expert service, clear communication, and total property restoration. Consider 911 Restoration your fire information center, ready with answers to every question you have.
It's natural to feel overwhelmed in a situation like this one. But call on 911 Restoration of Reno for your fire damage restoration and puffback cleanup needs, and we promise you'll get through this challenging time faster than you ever thought possible.
Call us now at 775-419-0116 and get ready to breathe easy.
Will Homeowners Insurance Cover Fire Damage Restoration?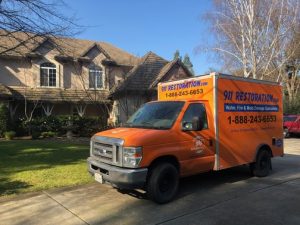 Worried about the cost of fire cleanup? Wondering if your insurance provider covers smoke removal, puffback cleanup, or water damage restoration? But what about drywall repair and mold inspection?
Because fire damage restoration can encompass a wide variety of services, it's not always obvious which of your restoration needs will be covered by your insurance plan. Fortunately, the fire and smoke restoration experts at 911 Restoration are happy to help.
In fact, after they give you a free fire damage assessment, they offer a free insurance consultation. Moreover, they go over every one of your fire cleanup and smoke removal needs covered by your insurance provider. The IICRC-certified experts at 911 Restoration even help with inventory and loss itemization. They file a claim on your behalf, and they bill your provider directly.
After all, from expert fire and puffback cleanup to affordable costs, we do all we can to make fire damage restoration a painless process for you. 
Call the best fire restoration company in Reno, 911 Restoration of Reno today at 775-419-0116.
Servicing the cities of Downtown Reno, Fernley, Midtown Reno, Northeast Reno, Northwest Reno, Reno, Riverwalk District, Sparks, Sun Valley, West Reno, and the surrounding areas.