Identifying, Removing, and Preventing Mold Growth in Reno, Nevada
Mold growth is a common issue that Reno homeowners face, but it's also a dangerous one. Not only does mold have an unpleasant appearance, but it can also have severe health effects, especially for those with allergies, asthma, and other respiratory issues. At 911 Restoration of Reno, we are experts in identifying, removing, and preventing mold growth in Reno homes and businesses.
Full-Service Restoration Company in Reno
At 911 Restoration of Reno, we offer a Fresh Start with our comprehensive selection of property damage restoration services, including but not limited to:
Mold Growth or Infestation? Call Us Today (775) 419-0116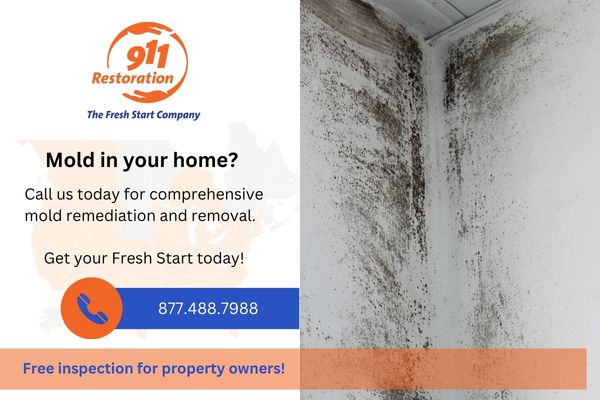 Identifying Mold: The Importance of Professional Inspection
Mold can grow anywhere in your home, including in your basement, bathroom, kitchen, and other areas that have high humidity levels. However, it is often difficult to identify mold without proper inspection equipment. Mold growth can appear in a variety of colors, including black, green, white, and brown. If you suspect you have mold in your home, it's essential to call in the professionals to do an inspection.
Our team of experts uses advanced equipment and techniques to identify mold and determine its type and extent. We perform air quality tests, moisture readings, and visual inspections to identify the presence of mold and determine its severity.
Removing Mold: Safe and Effective Methods
Once the mold is identified, the next step is to remove it. This process requires a combination of specialized equipment and chemicals. It's essential to use protective gear, including respirators, gloves, and protective clothing when removing mold in your Reno home or business. Improper removal can cause mold spores to become airborne and spread to other areas of your home, which can lead to further health risks.
At 911 Restoration of Reno, we use industry-approved methods to safely and effectively remove mold from your home. We contain the affected area to prevent mold spores from spreading and use HEPA filters to trap mold particles. We also use specialized chemicals that are designed to remove mold and prevent its growth.
Preventing Mold Growth: Steps for a Mold-Free Home
After the mold has been removed, it's essential to take steps to prevent its growth. Mold requires moisture to grow, so it's crucial to eliminate any sources of moisture in your home. This includes fixing leaky pipes, improving ventilation, and reducing humidity levels.
Our team of experts provides comprehensive mold remediation services, including dehumidification, air duct cleaning, and other measures to prevent mold growth. We also offer ongoing monitoring and maintenance services to ensure that mold does not return.
Trusted Mold Remediation Services – Your Fresh Start!
Mold can be a dangerous and unpleasant issue for homeowners, but it doesn't have to be. At 911 Restoration of Reno, we are dedicated to helping our clients identify, remove, and prevent mold growth in their homes and businesses. 
Our team of IICRC-certified and trained experts uses advanced equipment and techniques to provide comprehensive mold remediation services, ensuring that your home is safe, healthy, and mold-free. Contact us today to learn more about our mold remediation services and how we can help you keep your home or business mold-free.
911 Restoration is located at 4583 Longley Lane #4 Reno, NV 89502. Give us a call 24 hours a day at (775) 419-0116.
Servicing the cities of Downtown Reno, Fernley, Midtown Reno, Northeast Reno, Northwest Reno, Reno, Riverwalk District, Sparks, Sun Valley, West Reno, Fallon, Cold Springs, and the surrounding areas.